New Moon to Film in Montepulciano, Italy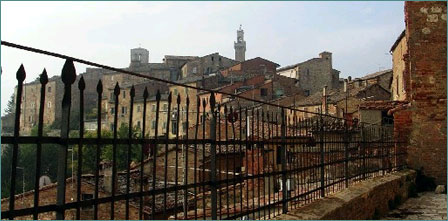 According to
Montepulciano.com
, the Italy scenes from the end of
New Moon
will be filmed in Montepulciano, and not Volterra:
"Pietra Detassis editor-in-chief of the monthly 'Ciak' has confirmed this on her blog: 'At lunch in Los Angeles with one of the producers of Summit Entertainment, responsible for 'Twilight' and now 'New Moon', the sequel of the saga taken from the books by Stephenie Meyer, explodes this bombshell: Despite the announcements, anticipation and generous offers from every kind of Mayor and Municipality, the vampiresque sequel will not be shot in the romantic places of Volterra, but in Montepulciano where the troupe has found 'the most beautiful place to film'... "
I know film locations are not usually the real thing, but still, it would have been nice if the Volterra scenes could have actually been shot there. Bummer enough that all the Forks and La Push scenes have been moved from Washington State to Vancouver, B.C.; now the Italy location has as well. I guess budget and logistics overrides location authenticity.
Still, if I had some serious free time and cash, I'd make a vacation out of it--I love Italy! The hilltowns are a fabulous May destination. Rent a small villa on the outskirts. Better yet, a charming
appartamento
with a view of the sun-soaked piazza and the clock tower ("Edward, no!"). Just stay away from big creepy people in dark hooded cloaks...