MAD Magazine Spoofs the 'Twilight' Movies
What, me worry?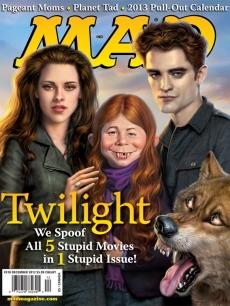 MAD Magazine
is lampooning not just one, or three, but ALL five of the 'Twilight' films in its December issue. What an honor!
The on and newly-rekindled-off-​screen duo – along with the magazine's Alfred E. Neuman appearing as their onscreen vampire daughter Renesmee – has landed on the December 2012 cover of the humor mag.


MAD Magazine Editor in Chief John Ficarra said the "Breaking Dawn" stars were "unavailable" to pose for the cover for variety of reasons.


"We tried to get celebrity help with this cover, but of the three, the werewolf was the only one that was approachable," he joked in a statement to Access Hollywood. "We really wanted to get Robert Pattinson involved, but didn't have the budget for an eyebrow wrangler."


Adding, "We were all set up to work with Kristen Stewart and Robert Pattinson, but they had to cancel because it conflicted with their weekly Brooding Lesson."


Check out the issue, due out on October 23, which will spoof all five of "The Twilight Saga" movies.
I hope they have their "Stupid Answers to Stupid Questions" section for this; that was always my favorite.
Make sure you've got this in your 'Twilight' collection!  Alfred E. Neuman as Renesmee is priceless.
I'm a big Twilight fan and I can't wait to add this cover to my collection. Some fans will take offense because they're too prickly and can't take a joke. But what's that old saying..."imitation is the sincerest form of flattery"? I love a good Twilight spoof and to get the Mad Magazine treatment, yeah, I do think it's an honor. Thanks Mad.
Are you sure you want to delete this comment?