'Fifty Shades' Now Has Its Very Own Fan Fiction
It keeps spawning...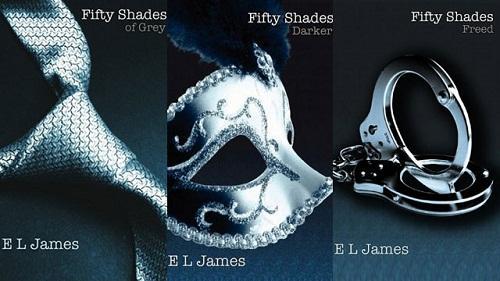 Everyone--from the little old lady at the library to your child's preschool teacher to the CFO of a Fortune 500 firm--has been caught up in this literary phenomenon which bizarrely enough started out as 'Twilight' fan fiction.
And now, according to 
MSNBC Today
, this former fanfic hit is spawning off its own brand of fan fiction:
New York — Not all that long ago E L James was Snowqueens Icedragon, cranking out her sexed-up "Twilight" fan fiction online.


Well, faster than you can shriek your safe word, her kinky "Fifty Shades of Grey" trilogy has fanfic of its very own in the same place where she first serialized her story under a different title.


"I'm immensely flattered, and it's humbling to know my work is inspiring others to write," James said in a statement less than three months after "Fifty Shades" was published by Vintage Books and climbed to the top of best-seller lists.


The writings range from parody to otherworldy to crossovers into other book worlds like "Harry Potter." Some is barely discernible in style from James's three — often the point in fanfic — advancing time or pushing it back with new imaginings of her story and characters.
Fan fiction for "Twilight" remains among the most popular at FanFiction.net, James's former home, with nearly 200,000 contributions there, behind only Potter for books. The number for James's three is growing, but still well under 50.

It's mind-boggling, really.  Writing fan fiction inspired by fan fiction inspired by 'Twilight.'  
Fan fiction isn't all that new, apparently.  According to the article, the concept of fanfic goes back to the 1900s and the Sherlock Holmes stories, states University of Utah English professor Anne Jamison:
"There was fan fiction before you called it fan fiction," she said, "and before there was copyright it was called writing."


In more recent years but before the rise of the Internet, the early "Star Trek" series helped boost the popularity of fanfic. It exists today online for numerous TV shows, movies, comic books, plays and games, done in many genres and much of it with big fat disclaimers declaring it's all just for fun.


While it's not unprecedented for writers to publish fanfic, "There is this whole network predicated on not having any sales," Jamison said. "It was a huge rift in the fandom."


To many fanfic writers, the point is to honor the original work, drawing on the existing characters and stories. It's unclear whether telling the "Fifty Shades" story from the point of view of a tampon, as one fic does, is tribute or a not-so-subtle message for James.
Sales for the 'Fifty Shades' trilogy are at 10 million and going strong, according to Vintage, its publisher.
And what does Stephenie Meyer think of all this 'Fifty Shades' hoopla?  She gives MTV her take on it:
Have YOU read 'Fifty Shades'?  Fess up, there's no judging here.
Are you sure you want to delete this comment?