Mr. Sulu Brokers Star Peace By Dissing 'Twilight'
He's cool with aliens, but not sparkling vampires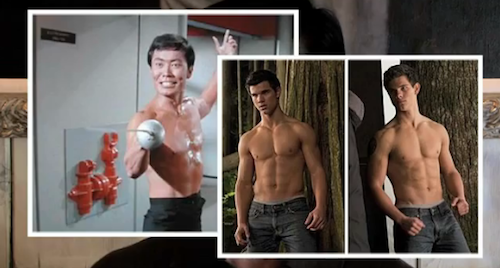 Aww, Mr. Sulu, say it ain't so. 
George Takei
-- the film and television actor best known as "Mr. Sulu" from the 'Star Trek' series, currently a social media impresario, and now the self-appointed broker of Star Peace -- has done the unthinkable:  smacking down 'Twilight.'
In an attempt to end the ridiculous 'Star Wars' vs. 'Star Trek' feud that William Shatner and Carrie Fisher have been escalating, Takei pleads for Star Peace, stating that the "new ominous threat to science fiction" is 'Twilight':
Gone is any sense of heroism, camaraderie or epic battles. In its place, we have vampires that sparkle, moan and go to high school. Now, I'm not above mixing in a little sex appeal to spice up the fantasy, but sci-fi fans be warned, there are no great stories, characters or profound life lessons to be found in Twilight. Nooo…In Twilight, the only message that rings through loud and clear is: 'Does my boyfriend like me?'

Check out the video.  Not sure what is scarier, Shatner's belly or Fisher's cleavage.
What say you, Twi-Hards?  Sound off in the Comments!

Twilight is garbage. I wouldn't type that if they had written their own storyline instead of ripping off Underworld's, and replacing the sci-fi vampires with creatures that are much closer to the description of fairies. Anyone who actually enjoyed Twilight is in need of a brain enema.
Star Trek = Best Sci-Fi Television Series Ever
Star Wars = Best Space Opera Movies Ever
Twilight = Garbage Targeted at Girls Age 12-15
I'm with you George!  I grew up with Star Trek and with my kids, Star Wars.  Both are GREAT adventures with characters that you could learn things from, and incorporate those things into your everyday life, the logic of Mr Spock, the wisdom of Yoda, Red Shirts are expendable, be Loyal to your friends and crew, Confidence is sexy (Kirk and Solo), and always Let the Wookie Win! Can't say that there are any movies out there that I want my grandkids to emulate, so they will be introduced to the last two generations hero's from both of the great space operas, with a little Indiana Jones on the side. I support Space Peace!!
Are you sure you want to delete this comment?