Stephenie Meyer Doing Film Adaptation of 'Down a Dark Hall'
Horror for the tween set?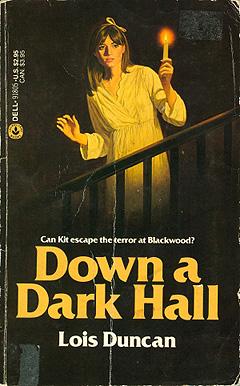 Entertainment Weekly
reports that Fickle Fish Films--Stephenie Meyer's production company--is planning a film adaptation of the 1974 Lois Duncan book, 'Down a Dark Hall.'
Never heard of it?  Me either.
EW has more on this:
If one were going to break down the reading habits of a generation simply, we had Judy Blume to give us comfort through the trials of adolescence and then we had Lois Duncan to scare the stuffing out of us and keep us up all night. You think the Reaping was tense times? Or the search for Horcruxes stressful? Just you go back and pick up some Duncan books, which blend just enough reality with the supernatural to make them absolutely terrifying. (Just seeing the original cover of the book is enough to make this writer's heart lurch.)  "It gave me some serious nightmares when I was 9," Meyer wrote on her blog this morning, noting that the 1974 novel was a favorite with hers, along with Summer of Fear and Stranger with My Face. Side note: even Lois Duncan titles were scary.

Kit Gordy sees Blackwood Hall towering over black iron gates, and she can't help thinking, This place is evil. The imposing mansion sends a shiver of fear through her. But Kit settles into a routine, trying to ignore the rumors that the highly exclusive boarding school is haunted.

Then her classmates begin to show extraordinary and unknown talents. The strange dreams, the voices, the lost letters to family and friends, all become overshadowed by the magic around them.

When Kit and her friends realize that Blackwood isn't what it claims to be, it might be too late.

It doesn't sound that scary, but the reviews on Amazon say otherwise.
I wonder how creeptastic they'll make this; will it be a PG-13 or an R film?  I'm sure Meyer's fans hope they'll be able to see it.
Are you sure you want to delete this comment?