Kristen Stewart Out of 'Snow White' Sequel
But Rupert Sanders is still a contender for director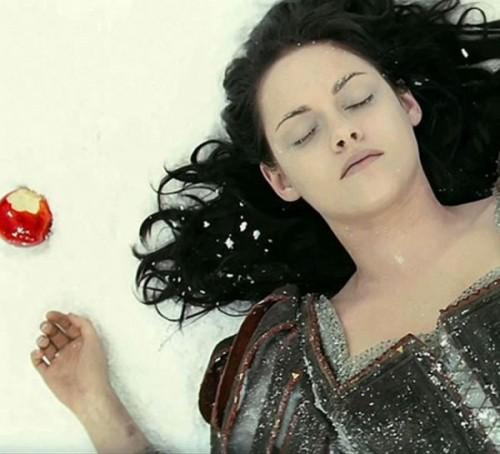 MTV
reports that Kristen Stewart is no longer attached to the 'Snow White and The Huntsman' sequel:
But after reports surfaced earlier this week that Stewart had been dropped from a planned sequel to "Snow White," the studio behind the picture, Universal, weighed in on Tuesday and said the actress may still appear in the follow-up.


According to the Los Angeles Times, Universal has insisted that plans for a second film focusing on Chris Hemsworth's Huntsman character and Stewart's Snow White are proceeding apace.
... Universal said it has yet to settle on a writer or director for the second Huntsman movie, though first-time feature filmmaker Sanders is still on the list of possible candidates.


Earlier on Tuesday, the Hollywood Reporter touted an exclusive story claiming that Universal had decided to shelve plans for a "Snow White" sequel and instead focus on a solo Huntsman spin-off movie starring Hemsworth that would not involve the actress.
The trade magazine noted that it's unusual for studios to drop major stars of franchises between the first and second installments of film series, especially since Universal's original plan was to make two films with the Snow White character and then a third that would spin-off the Huntsman.
What I find irksome is the studio supposedly re-focusing the 'Snow White' project on the Huntsman character, thereby conveniently
sort-of-dropping-but​-not-completely-diss​ing
Stewart, while Rupert Sanders is still a possibility for the director slot.  Seems like a double standard to me--there were two of them in that "indiscretion."
I'm not sure if there is enough to the Huntsman character to merit a spin-off, but Universal is probably banking on the star power of Chris Hemsworth, whose 'Thor' has over $449M in worldwide grosses.
Just two months ago, things seemed quite different, with Universal pushing forth a SWATH sequel, and both Stewart and Hemsworth up for making it a trilogy:
Stewart had dropped out of another
upcoming project, 'Cali,'
just last week. The fall-out from her affair with her SWATH director is now spreading to her career.
What do you think of a 'Snow White' sequel focused on the Huntsman?  Sound off in the Comments.

Wow, definately sounds like a double standard to me, but not surprising. Even though it's 2012, society feels the need to brand the girl with the 'scarlet letter'. Time to wake up people and realize Kristin is young and when people are young they make mistakes. Rupert, who quite obviously is having a midlife crisis, should know better and should have left her alone. If these studios feel the need to drop her, maybe she's better off finding another that will hire her for her talent and not for what's happening in her personal life.
Are you sure you want to delete this comment?