Kristen Stewart Signs Up For Wild Crime Action/Drama
Will this be her 'Cosmopolis'?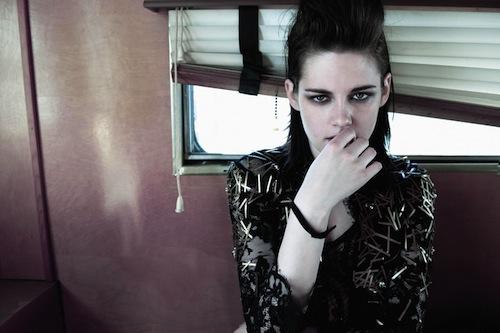 Cinema Blend
reports, via Variety, that Kristen Stewart has signed on to play Mya, one half of a con artist couple, in 'Cali,' an action/drama film set in Los Angeles involving a faked death and a wild cast of characters:
Variety reveals Stewart has signed on to play Mya, one half of a con artist couple that's looking to make some serious cash. Their plan is simple though deeply twisted. They decide to make a snuff movie with Mya as its seemingly ill-fated star. Ultimately, the killer flick is a hoax that nets them major bank, but forces them to fake her death and flee town. Surprisingly, their plan works great. The problem comes when the little sister Mya left behind needs help. Now, Mya and her boyfriend Chris must return to California and confront "angry former business partners, homicidal porn stars, stoner vet tech, [and] an unstoppable killing machine in a cowboy hat," all while dealing with the emerging issues in their relationship.
From Variety:
Kristen is a talented and dynamic actor, with a proven box office draw," said [Craig J.] Flores. "Her role in 'Cali' will be edgy and sexy. It will no doubt push the envelope on the public's view of Kristen's wide-ranging abilities. Voltage is thrilled to have her as a partner on this fantastic film.

Craig J. Flores ("300″) and Zev Foreman ("Killer Joe") will produce for Voltage, while Diliberti will also produce. His manager, Brian Levy of New School Media, will exec produce with Voltage topper Nicolas Chartier ("The Hurt Locker") and Stewart, who will pick up her first producing credit on the project.

Stewart will debut as a producer on this project...that's stepping it up a notch!
Source:  Breaking Dawn Movie