Which version of the 'Breaking Dawn, Part 2' Blu-ray/DVD is right for you?
Let's look at the different versions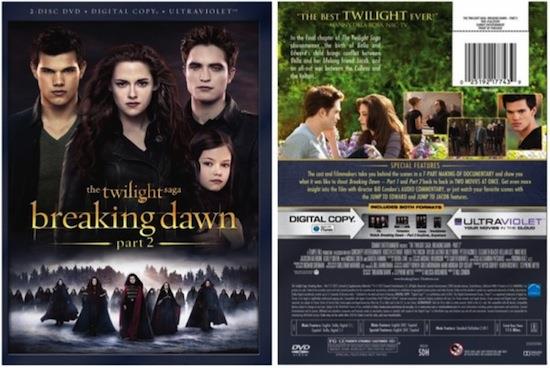 Soon the
'Breaking Dawn, Part 2'
Blu-ray/DVD will be in your hands. But which version will you be holding? Once again, that depends on where you buy it.
Let's look at the different versions.
Amazon
has two different one-disc versions, either a Blu-ray or a DVD, plus the Digital Copy and UltraViolet, going for $19.96 and $14.96, respectively.  Their description of the Special Features: "The cast and filmmakers take you behind the scenes in a 7-PART MAKING-OF DOCUMENTARY and show you what it was like to shoot Breaking Dawn -- Part 1 and Part 2 back to back in TWO MOVIES AT ONCE. Get even more insight into the film with director Bill Condon's AUDIO COMMENTARY, or just watch your favorite scenes with the JUMP TO EDWARD and JUMP TO JACOB features."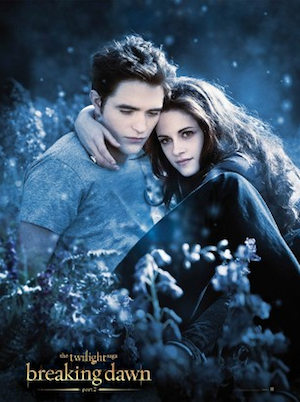 Target
has an exclusive 2-disc version for $25.99. They've got some very nice extras:
FREE GIFT WITH PURCHASE: 

Pre-order this Target exclusive movie and receive a FREE 30"x40" Breaking Dawn Part 2 movie poster, a $9.99 value! 




EXCLUSIVE BONUS DISC: 

52 minutes of content that you can get ONLY at Target, along with hours of additional behind the scenes special features. 




In this bonus content, the cast discusses special vampire powers in TINGLES AND CHILLS, the Volturi in JUDGE, JURY & EXECUTIONER, and the new vampires in CARLISLE'S CONTACTS. Watch how Bella and Charlie's relationship evolved in BEING CHARLIE SWAN and feel the excitement from the 2012 COMIC-CON and THE WORLD PREMIERE with the cast and fans!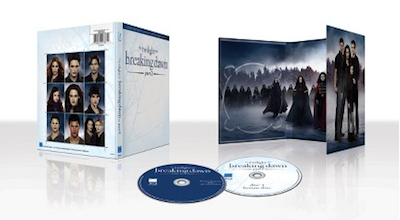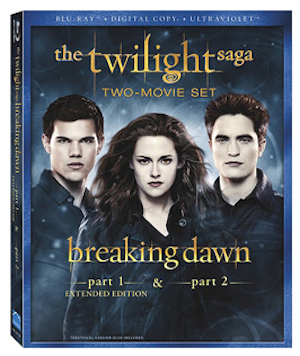 Walmart
has Blu-ray or DVD versions similar to what Amazon has. But it also offers an exclusive set with 'Breaking Dawn' parts 1
and
2, featuring the extended edition of part 1. Walmart's site has no details on how many discs or what special features, if any, are included; 
Hypable
reports that there are none.  At $22.96 for the DVD and $24.96 for the Blu-ray, it's the only way to get the two movies in one slipcased set.
Which version are you getting?  Share your thoughts in the Comments.