How Do Hunger-lings Stack Up to Twi-Hards?
Some interesting stats from USA Today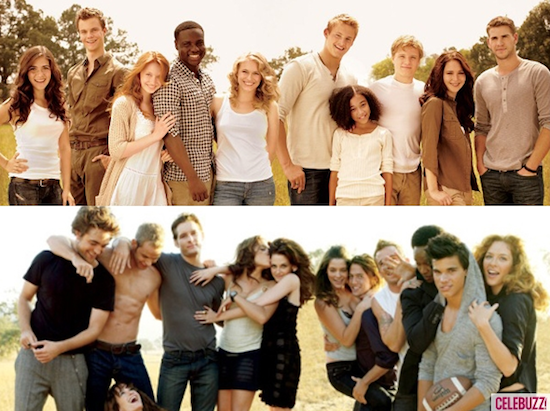 So much buzz has surrounded the inevitable comparisons between 'Twilight' and 'The Hunger Games.'  Having read both series, I honestly didn't even compare the two.  Although both are in the Teen Lit genre, they are quite different.  
USA Today
has taken a closer look at the two phenomenons, focusing mostly on the fandoms and how they compare:
"Everyone wanted to put (Hunger Games) into the Twilight box," says Tim Palen, Lionsgate's chief marketing officer. "It's easy to put it in that box because of three young main leads (in both movies). But they're completely different stories with different appeals."  (Lionsgate owns both franchises.)


And they draw different, though powerful, demographics. Twi-hards tend to run younger than Hunger-lings, analysts and studio executives say. According to exit surveys by Lionsgate, 56% of Hunger Games' moviegoers were 25 and older, about the opposite of Twilight's film fan base.


Women rule both series. The studio found that about 80% of Twilight's moviegoers are women. This weekend, women made up 61% of Hunger Games moviegoers.Hunger Games had a bigger debut ($152.5 million) than any Twilight film — 2009's New Moon marks Twilight's biggest opener at $142.8 million. Yet Twilight is the ninth-largest franchise, with $2.5 billion worldwide from four films.


Fans already are measuring the opponents. Movieline.com ran a seven-point scorecard, weighing everything from the stories' love triangles to themes to PG-13 action. The site gave Hunger Games the nod in five of the seven categories.


"The Hunger Games has a wider appeal," says Jen Yamato, who wrote Movieline's tale of the tape. "It's more sci-fi/fantasy, while Twilight is a supernatural romance. So more guys are going to see Hunger. Of course … we're still talking millions of fans on both sides."
Where do you stand on this?  Can one be a huge fan of both series, without conflict?  Weigh in!