Robert Pattinson and Jon Stewart Bond Over Ice Cream On "The Daily Show"
Stewart gives break-up advice, Pattinson stays mum.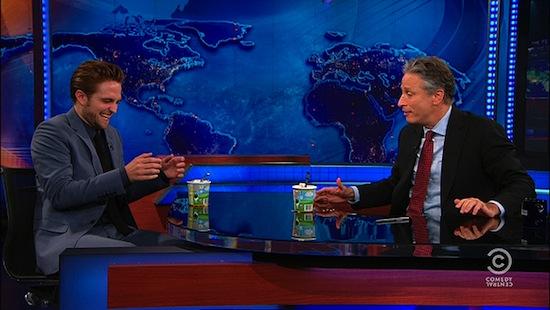 Only Jon Stewart (and his effin' brilliant brain) could address the giant, purple polka-dotted elephant in the room in a manner that was not over the line and still quite funny.  
Robert Pattinson was on "The Daily Show" last night, and no one was quite sure if, or even how, his recent personal troubles would be addressed during his first public appearance since the Kristen Stewart/Rupert Sanders brouhaha.
"What have you been up to?" asked a smiling Stewart, getting right to the topic on everyone's mind.
Pattinson didn't directly address any of Stewart's remarks regarding Kristen Stewart's affair with her "Snow White and The Huntsman" director, but smiled and joked around. 
Stewart declared, "Let's just do this," and took out two pints of Ben & Jerry's ice cream (Karamel Sutra for Pattinson, and Cherry Garcia for himself).  "Now we're just a couple of gals talking," said Stewart.  "Tell me everything."
Pattinson revealed nothing, but joked that he's avoiding eating like this so he doesn't split his Spanx.  "I'm double-Spanxed," he laughed.
Stewart brought it back to topic with,  "So what are we doing here?  Are you alright?  Is everything okay?  I'm worried about you, and you're alright?"
All Pattinson offered up was, "I'm going to sound like an idiot, but my biggest problem in my life is I'm cheap, and I didn't hire a publicist. And in every awkward interview, normally, actors get these things scripted. I'm going to hire a publicist."
Stewart shared his own breakup story:  "Listen, the last time I had a bad breakup, Ben and Jerry got me through some of the tougher times. So, I thought you and I could bond over this and talk about, 'Boy, you are better off. Kick her to the curb! Whatever!'"  That earned some major audience cheering.  Pattinson, again, just smiled.
Stewart's last bit of advice:  "When you are young and you break up, it's powerful and it feels like the world is ending. This is the first time I have seen the world actually react that way. It's insanity. ... Here is my wish for you: That you get to handle your business in private, in your personal life, and I wish you all the best."
We concur.
Did you tune in last night?  Thoughts?  Add them in the Comments.