FEATURED POST
The Oscar nominated animated feature speaks a universal language
"The Illusionist" (Sony)
Sylvain Chomet (of the delirious "The Triplets of Belleville") transforms an unproduced script by French auteur Jacques Tati ("Mon Oncle") into a tender tale of a French magician and a Scottish girl in the theater-folk society of London as the old world of stage performance gives way to the new theater of rock and roll. They don't even speak the same language, not that words are the currency of communication in this film, a delicate and delightful piece of old-fashioned hand-drawn animation where character is in body language and personality in the "performance."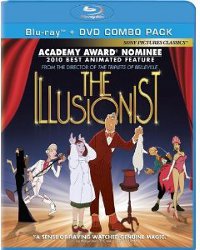 Chomet doesn't just adapt Tati's script, he models his lanky magician Tatischeff on Tati's own distinctive screen character and performance style. And while he has his own approach to staging screen comedy, Chomet shares Tati's preference to playing scenes out in full shots and long takes where his characters can fill the world with their presence. His screen Tati evokes the original beautifully while creating a unique animated character in its right. As the title suggests, the magic here is all illusion, a matter of sleight of hand and stagecraft, but Chomet reminds us that theater and art creates its own brand of magic. Chomet's brand of animated magic earned the film an Academy Award nomination for Best Animated Feature.
The film arrives in a two-disc Blu-ray+DVD Combo pack with minimal but enjoyable supplements. "The Making of The Illusionist" is less a documentary than very brief hop, skip and jump through various stages of production but "The Animation Process," while almost as brief, offers an illustration of the animation process with pencil tests and progression sequences from a few key scenes. The soundtrack is listed as "English" but in fact the minimal dialogue, a matter of muttered asides and brief exclamations that are self-explanatory in the context of their scenes, is in multiple languages, reflecting the multinational character of the traveling performers.