FEATURED POST
The short-lived superhero series hits home video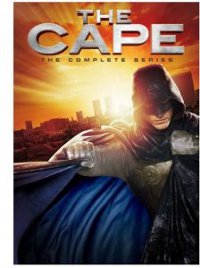 "The Cape: The Complete Series" (Universal) is not inaccurate as titles go—it does feature the entire run of the short-lived show—but it is a bit misleading. Cancelled before even getting a full season under its belt, the two-disc release features a mere ten episodes of the small screen superhero series.
David Lyons stars as the blue collar everyman cop framed for murder and presumed dead after a violent chase who resurrects as a caper crusader, courtesy of a magnificent cape donated by a shadowy circus magician (Keith David) who serves as The Cape's mentor. Summer Glau, in yet another SF-tipped series, is oddly miscast as thee computer genius and cyber-rebel Orwell while James Frain swings for the fences as the thoroughly corrupt and madly schizophrenic corporate overlord Peter Fleming. While he's busy privatizing the city for fun and profit (starting with the police force, a la "Robocop"), his alter ego goes all Green Goblin in the underworld.
A lot of shows about caped heroes get described as "comic book" out of laziness but this show really does draw from the four-color tradition. This Batman-like character plays true-heart vigilante a near-future version of Gotham City right out of ultra-stylized corruption of Frank Miller's "The Dark Knight." He takes on a rogues gallery of crooks defined by colorful gimmicks and physical anomalies and he hides out in a circus of crime where he learns acrobatics, sleight-of-hand showmanship and the art of creating an image. Just to hammer it home, the credits play out over the panels of a comic book which is featured within the series, about a fictional hero named, of course, The Cape.
The series brings one story arc to an end with episode ten, which offers at least some closure, but some of the storylines hinted at in the initial episodes are left simply hanging, some no more than potential.
While passingly entertaining in its comic book conventions and stylized scenes of urban night dominated by the underworld and self-aware enough not to take itself too seriously, the show never found the mad inspiration to power the pulp storytelling and failed to land either a general audience or a passionate cult following.
That's likely why Universal didn't go overboard for the DVD release. The ten episodes are on two discs in a standard case with a hinged tray, with no supplements and not even an episode guide.