FEATURED POST
They may not all be masterpieces, but this collection spotlights the work of a master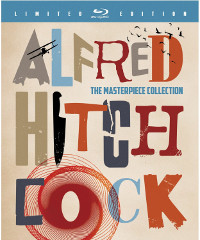 "Alfred Hitchcock: The Masterpiece Collection" (Universal)

It is a Hitchcock Renaissance!
"Vertigo" was anointed the Greatest Film Ever Made by the Sight and Sound poll this summer. "The Birds" was remastered and rereleased nationwide in both digital and 35mm screenings. "The Girl," about Hitchcock's obsessive, domineering relationship with actress Tippi Hedren, premiered on HBO a couple of weeks ago, and "Hitchcock" a big screen drama about the making of "Psycho" with Anthony Hopkins as Hitch, Scarlett Johansson as Janet Leigh, and Helen Mirren as Hitch's wife and longtime collaborator Alma Reville, opens on Thanksgiving weekend.
Whether it's cagey planning or kismet (or a combination of both), it's perfect timing for Universal to release its Blu-ray box of 15 Hitchcock films, 13 of them in their HD debut. They're not all masterpieces in "The Masterpiece Collection," but as they are all from the Master of Suspense, they all  have their merits, and all are packed with supplements carried over from previous DVD releases. Here's the line-up, which is almost identical to the earlier DVD set of the same name:
"Saboteur" (1942), a coast-to-coast chase with Robert Cummings; "Shadow Of A Doubt" (1943), Hitch's personal favorite, with Joseph Cotten as the charming "Merry Widow Killer"; "Rope" (1948), Hitch's bold long take experiment; "Rear Window" (1954), with James Stewart and Grace Kelly; "The Trouble With Harry" (1955), a cheeky autumnal comedy; "The Man Who Knew Too Much" (1956), a remake of his early British hit; "Vertigo" (1958); "North by Northwest" (1959), the smoothest of Hitch's romantic thrillers; "Psycho" (1961), once notorious, now celebrated; "The Birds" (1963), his memorable contribution to the "animals attack" genre; "Marnie" (1964), a chilly vision of psychosis and domination; "Torn Curtain" (1966) is chilly look at cold war espionage; "Topaz" (1969), his attempt at a modern international espionage thriller; "Frenzy" (1972), his return to England; and his final film "Family Plot" (1976) is an easy, breezy thriller. Only "North by Northwest" and "Psycho" have been previously available on Blu-ray. Details on each film are below, after some initial notes.
Clearly, I did not watch all 15 films through, but I did sample my way through the set, with some guidance from initial reviews by Nick Wrigley (whose initial notes on the advance release set, on his website Enthusiasm, prompted an outcry and a recall by Universal to fix some serious problems) and Robert Harris (armed with advance copies of the "fixed" versions, for Home Theater Forum).
To be honest, my major concern was the problematic soundtrack of "Vertigo." This presentation has both corrected the jarring 1996 stereo surround soundtrack remix (to which new foley effects -- footsteps, gunshots, cars, door slams, and the like -- were created and pushed prominently and distractingly in the mix) with a more natural balance, and offered a copy of the original mono soundtrack (taken from an archival print, as the original elements were missing). "Vertigo" has always been a major film but is now a jewel in the crown of the Universal library and they've further refined the restoration, using digital tools to repair problematic elements and restore faded color that couldn't be fixed by photochemical means in 1996. Robert Harris, who worked on the 1996 restoration, praises the work done for this edition while noting issues that remain problematic.
In terms of the problems that prompted Universal to delay the release: the titles on "Frenzy" are still digital recreations of the original credits but they are more accurate to the original than in the edition that Wrigley viewed, plus they got the names spelled right this time; there is a edge of digital video noise reduction on "Frenzy" (noticeable but not terribly distracting); there is an annoying digital haze across most of "Marnie" (which is frustrating); the poor image quality of "Family Plot" suggests inferior master used for the transfer; and the colors fluctuate terribly across "The Man Who Knew Too Much" (the film Mr. Harris calls out as the "fail" of the set).
Some of these issues are a matter of rushing the set out without the best materials available and some are simply errors in the mastering process, but almost all of these discs are a still an improvement over the previous DVD releases, and many of them are superb.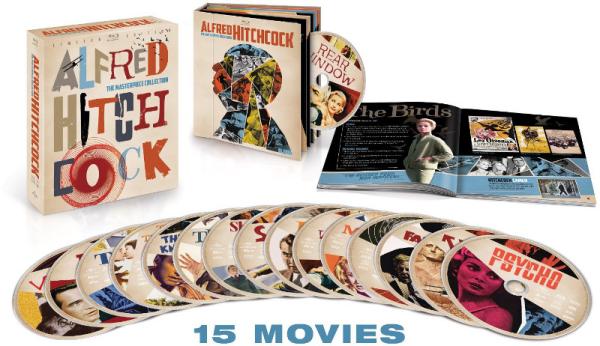 But one issue that isn't so much a mistake as a technological conflict is the odd disjunction caused by high-definition digital scans of original negatives or second-generation copies. They deliver a sharpness and clarity that did not exist in film prints of the era. That seems like an advantage, but it also enhances the issues of process photography, draws attention to phony backdrops and rear-projection, exaggerates contrasts between soft-focus close-ups and the sharpness of conventional photography, and has a habit of making the seams of special effects more obvious. As technology improves, these issues become more apparent, and with the amount of rear-projection shots in Hitch's films, the artifice is much closer to the surface.
The only new supplement created for this set is a new 14-minute featurette "The Birds: Hitchcock's Monster Movie," an undercooked piece with a bunch of filmmakers and critics praising the film and clips of other Universal monster films illustrating their points about the legacy of the "monster" in American movies. It's not nearly as interesting as the featurettes produced by Laurent Bouzereau carried over from the previous DVD releases. Most of these, by the way, are presented in standard definition.
The discs are tucked in paperboard sleeves in a big book-like volume in a slipsleeve and come with an accompanying 58-page booklet with art, stills, and notes on the films.
You can survey the films and the supplements after the jump. Just click on "More" below.
For more releases, see Hot Tips and Top Picks: DVDs, Blu-rays and streaming video for the week of October 30