FEATURED POST
Plus Nazis on the moon in 'Iron Sky,' Tsui Hark's 'Flying Swords of Dragon Gate,' Luc Besson's 'The Lady,' and more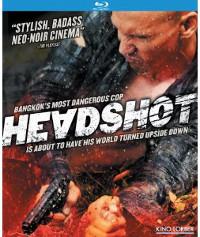 "Headshot" (Kino) - Thailand filmmaker Pen-ek Ratanaruang made his reputation with a series of stylish, violent, and oddly contemplative crime thrillers ("6ixtynen9," "Last Life in the Universe") and he returns to his strengths with this self-styled "Buddhist film noir."
Shuffling crime movie conventions with philosophical musings ("Justice does not exist in nature," ponders our tormented hero) and a quest for truth in a world of lies and manipulations, Ratanaruang comes up with a twisty, enigmatic tale about a contract killer with a complicated backstory and a unique perspective. Thanks to bullet in the head (just one of the many "headshots" in the film) he sees everything upside down, which puts him at a real disadvantage in a getaway but doesn't phase the accuracy of his aim. The film slips back and forth through flashbacks and enigmatic visions, often shuffled out of order, to keep us guessing as to what's really happening to our enigmatic and oddly passive assassin. It's just part of the confusion on the way to enlightenment. Which makes this either a very violent Buddhist lesson, or an almost too-clever crime conspiracy of assassins and patsies and detours to contemplate what it all means, both literally and spiritually. More reviews here.
Blu-ray and DVD, in Thai with English subtitles and an optional English dub soundtrack. No supplements beyond a stills gallery and a trailer.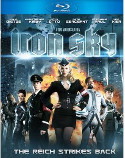 "Iron Sky" (eOne) is an inspired concept -- Hitler escaped Germany with a cadre of Nazi loyalists and established a colony on the dark side of the moon --- executed with total conviction, at least in the details. This isolated outpost lives in a steampunk world forged from the legacy of Krupp machineworks, all giant gears and pistons, and raised on a diet of revisionist history, where Der Fuhrer preached a message of love and brotherhood and world peace. Concocted by a German comedy troupe, it's pure farce with broadside gags (a Sarah Palin stand-in at the White House, a moonshot as a campaign stunt, a black male model scrubbed white in the Aryanization of mankind) and even broader delivery. It's a Germany / Australia / Finland co-production, which results in some pretty strange sensibilities, but it you like your science fiction retro and silly and launched with an invasion of heavy metal space zeppelins, then this is your movie. In English and German with English subtitles. Blu-ray and DVD, with commentary and featurette. More reviews here.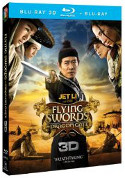 "Flying Swords of Dragon Gate" (Vivendi), the third version of the classic story originally made by King Hu (as "Dragon Gate Inn") and remade once already by Tsui Hark, is the first IMAX 3D film from China. Jet Li headlines this big budget remake / sequel, as a bandit who converges on a desert inn filled with soldier, assassins, rebels, and all sorts of conspiracies and schemes. "[T]he many scenes where characters describe at length their plans feel tedious," confesses Village Voice film critic Simon Abrams. "Fortunately, when Hark does allow his feuding community of heroes and villains to have at one another, he delivers a couple of unhinged, overblown action set pieces, including a fantastic fight set inside a hurricane." Mandarin with English subtitles and an optional English dub soundtrack. Blu-ray, Blu-ray 3D, and DVD, with featurettes and interviews.

"The Lady" (Cohen Media Group) stars Michelle Yeoh as Burmese activist (and Nobel Peace Prize laureate) Aung San Suu Kyi, who risked her life to campaign for democracy in Burma , and David Thewlis as her husband. Boston Globe film critic Ty Burr observes that "It can't be easy to turn one of the most stirring human rights dramas of the past quarter century into stultifying screen pageantry, but director Luc Besson and writer Rebecca Frayn have managed the trick with "The Lady"." English and Burmese with English subtitles. Blu-ray and DVD, with a featurette. Also available On Demand.
"Free Men" (Film Movement) is a World War II drama set in Nazi-occupied Paris, stars Tahar Rahim as a black marketer who is coerced into becoming a collaborator but inspired to join the resistance as he infiltrates the Paris Mosque. French with English subtitles. DVD only, with bonus short film "Lustig" from the United States. Reviews here.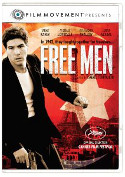 "Funkytown" (Wolfe), set in disco scene of 1976 Montreal, is an ensemble drama set around a trendy disco club. Directed by Daniel Roby and starring Patrick Huard and Justin Chatwin, it also features a soundtrack of seventies disco hits. English and French with English subtitles. DVD only. Reviews here.
From the Global Lens series comes two features. "The Light Thief" (Global Lens), from Kyrgyzstan, is a parable about an electrician who tries to bring wind power to his destitute community and gets stymied by the rampant corruption around him. Kyrgyz with English subtitles. Reviews here. "Soul of Sand" (Global Lens), from India, is a drama revolving around the prejudices that holdover from the caste system. Hindi with English subtitles. IMDb page here. Both DVD only.
For more releases, see Hot Tips and Top Picks: DVDs, Blu-rays and streaming video for week of October 2