FEATURED POST
Plus the original 'Tinker Tailor Soldier Spy' and cult Italian horror
By 
SeanAx
 Apr 26, 2012 11:05AM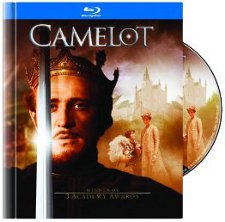 "Camelot" (Warner), the 1967 musical epic starring Richard Harris as King Arthur and Vanessa Redgrave as a flower-child Guenevere, is considered a classic by many and a disaster by others. I'm in that other camp.
The original 1960 Broadway production of the musical version of the King Arthur legend by Alan Jay Lerner and Frederick Loewe was a smash hit turned cultural touchstone, associated forever with the idealism and youth of the John F. Kennedy. But by the time it came to the big screen in 1967, the old studio system was breaking down and youth culture was challenging establishment tastes. The movie version, directed by Broadway veteran and musical specialist Joshua Logan, tried to straddle the gap between old-fashioned Hollywood musical spectacle and the energy and color and themes of sixties culture. The resulting compromise is big and ungraceful and plodding, a lumbering three-hour spectacle.
Richard Harris, famous for playing rebellious, rough-hewn characters, took over the role of King Arthur (originated by Richard Burton) with a mix of regal dignity and working-class origins and Vanessa Redgrave brought youth and unapologetic sexuality to Guenevere (played by Julie Andrews on stage).
Italian actor Franco Nero, however, is neither a charismatic romantic lead nor much a singer as the conceited and sincere Lancelot, the night that captures Guenevere's heart. He's just one tone-deaf element to the simplistic take on the Arthurian myth. Lavishly mounted, with magnificent sets and costumes and castle backdrops, it's also clumsily directed and haphazardly edited, alternately lighthearted and heavy-handed, often in the same scene. And while it has its fans, the bloated, overlong production was a huge financial flop and helped kill the old-fashioned musical.
The Blu-ray release features commentary by film historian Stephen Farber and two well made (if overly admiring) documentary featurettes among the supplements, and comes in an illustrated Blu-ray book case with a soundtrack sampler CD.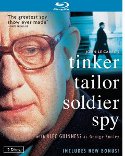 "Tinker, Tailor, Soldier, Spy" (Acorn), the superb original 1979 British TV mini-series starring Sir Alec Guinness as George Smiley, was the first screen adaptation of the John le Carre novel. It's not the first of the anti-Bond cold war espionage thrillers but it revived the genre and redefined it. This is all about the endgame -- there's no glamour or adventure in this spy game -- and the players (almost all of them looking like drab civil servants) hide their moves behind feints and sacrifices. Like so many British TV productions, a rich supporting cast weaves in and out of the tale, including Ian Richardson, Ian Bannen, Beryl Reid, and Alexander Knox (who know how to make the most of the Le Carre language), plus Patrick Stewart, who creates an enigmatic figure without speaking a word in one memorable scene. In addition to the 27-minute video interview with John Le Carre carried over from the DVD edition, there is an exclusive new half-hour interview with director John Irvin and deleted scenes among the supplements of the two-disc set.
"Killer Nun" (Blue Underground) is an Italian nunsploitation thriller about a morphine-addicted Sister whose slide into madness is garnished with murder and soft-core erotic interludes. It was, as they say, banned in Britain. Anita Ekberg, Paola Morra, Alida Valli, and Joe Dallesandro stars and Giulio Berruti directs. Includes the interview featurette "From the Secret Files of the Vatican" with director/co-writer Giulio Berruti and a gallery of posters and stills.

Riccardo Freda directs the 1981 erotic thriller "Murder Obsession" (Raro Video), where a group of horror filmmakers on vacation start getting killed one by one and the host (Stefano Patrizi) becomes the prime suspect. Cult actors John Richardson and Laura Gemser co-star. Features interviews with fellow directors S. Stivaletti and Gabriel Albanesi and composer Claude Simonetti, deleted scenes, and a booklet with an essay by Fangoria magazine writer Chris Alexander.
"The Red House" (HD Cinema Classics) is the latest public domain staple remastered for Blu-ray through the digital scrubbing of digital noise reduction (DNR), which removes the blemishes and smoothes over the image. It's a wonderfully moody film and this is the best-looking version I've seen yet, but the overly-scrubbed image is still a far cry from a real restoration. The Blu-ray+DVD Combo Pack presents two discs in a bargain edition, with commentary by William Hare.
For more releases, see Hot Tips and Top Picks: DVDs, Blu-rays and streaming video for April 24