FEATURED POST
Plus 'The Taking of Pelham One Two Three' and 'The Big Country'
By 
SeanAx
 Nov 23, 2011 11:46AM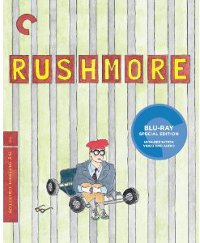 "¡Three Amigos!  25th Anniversary Edition" (HBO), starring Steve Martin, Chevy Chase and Martin Short as intellectually-chall​enged actors in silent movie westerns mistaken for genuine heroes, may be the forgotten John Landis comedy classic. It's certainly the sweetest of the American western parodies, and it is a loving tribute to the innocence of the early westerns. The Blu-ray debut features 20 minutes of newly rediscovered deleted scenes. More on the film -- plus an interview with director John Landis -- here.
"Rushmore" (Criterion), Wes Anderson's second feature, wasn't universally praised upon release but it has certainly earned it place in the category of modern classics, thanks to the mix of whimsy, confidence and heartache and Anderson's lively direction and playful design. Jason Schwartzman stars as a high school eccentric and Bill Murray earned accolades and awards as a sad sack millionaire who becomes his mentor and his rival. ""Rushmore" has a good deal of content and human qualities to spare, but what makes it such a charming and satisfying experience is its style," wrote Chicago Reader film critic Jonathan Rosenbaum in 1999, who praises the way that "everyone in the movie is accorded a certain dignity."
Criterion released the film on DVD in a director approved edition ten years ago. The Blu-ray debut features all the supplements from that release: commentary by Anderson, co-writer Owen Wilson, and actor Jason Schwartzman, a behind-the-scenes documentary, Anderson and Bill Murray on "The Charlie Rose Show," cast auditions, and galleries of storyboards, stills and other graphic ephemera. But to my mind, the coolest supplement is the trio of "Max Fisher Players" stagings of films "Armageddon," "The Truman Show," and "Out of Sight" for the MTV Movie Awards.
Also new this month: "The Taking of Pelham One Two Three" (MGM) with Walter Matthau and Robert Shaw, which is so superior to the instantly forgettable remake, and William Wyler's sweeping 1958 western "The Big Country" (MGM) with Gregory Peck, Charlton Heston and Jean Simmons, both of which arrived earlier in November.
For more releases, see Hot Tips and Top Picks: DVDs and Blu-rays for November 22