FEATURED POST
Plus two rarities from Jean-Luc Godard, Clint Walker versus 'Grizzly,' and more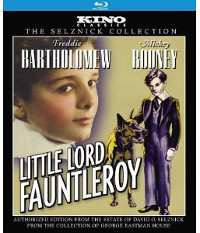 "Little Lord Fauntleroy" (Kino), the 1936 adaptation of the 19th century Frances Hodgson Burnett novel, was the first solo venture by former MGM producer David O. Selznick. Thirties child star Freddie Bartholomew stars as Ceddie, the most well-mannered and respectful boy in New York City, who travels to England to accept the inheritance of his grandfather, The Earl of Dorincourt (C. Aubrey Smith). It's kind of like "Heidi" by way of "Stella Dallas," with his mother (Dolores Costello) stepping aside so the boy will be accepted in his new society, while Ceddie thaws the cold heart of the lonely, unfeeling old man. The film itself, directed by John Cromwell, is tastefully slow and anonymously handsome, filled with easy sentiment and a lush score (by Max Steiner) that plays on the heart strings.
This is another of the Selznick literary productions that fell into the public domain years ago. There have been many DVD versions of the film, most of them of very poor quality. This edition, made in collaboration with the Selznick Estate, is mastered from a preserved 35mm print from the George Eastman House. There are some badly damaged sequences but overall it looks significantly better than previous DVD editions, and it marks the Blu-ray debut. More problematic is the sound, which is thin and the weaknesses are exaggerated in the mastering, which distorts some of the dialogue. While we still await a definitive restoration, this is currently the best version on home video. No supplements.
"Numero Deux" (Olive) and "Ici et Ailleurs" (Olive) were experimental video essays made by Jean-Luc Godard between the political polemics of his Dziga Vertov period and his renewed interest in narrative filmmaking in the eighties. These are fascinating artifacts, not necessarily recommended for the casual viewer but essential viewing for Godard fans.
The 1975 "Numero Deux," made in collaboration with Anne-Marie Miéville, mixes film and video and juxtaposes or superimposes multiple images in its portrait of a working class in a tiny Paris apartment. "Jean-Luc Godard's remarkable (if seldom screened) 1975 feature—one of the most ambitious and innovative films in his career—literally deconstructs family, sexuality, work, and alienation before our very eyes," wrote J. Hoberman in his Chicago Reader review. "… it forms one of Godard's richest and most disturbing meditations on social reality." In French with English subtitles, DVD only.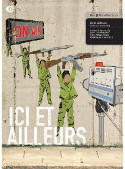 "Ici et Ailleurs" (aka "Here and Elsewhere") was initially shot in the early seventies with his Dziga Vertov collaborator Jean-Pierre Gorin as an essay film about the PLO but reworked several years later with Miéville as a short feature contrasting a French family with life in the Palestinian camps before the defeat of the Six Day War. Reflecting on this fact, as well as on the problems of recording history and of making political statements on film, Godard and Mieville produced a thoughtful and provocative essay on the subject," wrote J. Hoberman for Chicago Reader. In French and Arabic with English subtitles, DVD only.
"The Night of the Grizzly" (Olive) may sound like one of the nature gone wild horror movies of the seventies, but in fact this is a 1966 western starring Clint Walker as a former sheriff who takes his family west to take up a new, peaceful life of farming and ranching. That is, until a brazen grizzly bear (nicknamed Satan by the locals) decimates his livestock and terrorizes the farms of the area. Walker has said it's his favorite of his films, but it's pretty dated, with its often stiff special effects (including full-size bear animatronics) and silly comic interludes, and falls in an odd middle-ground between frontier drama and Disney-esque western.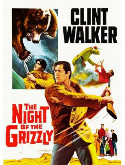 Joseph Pevney was never better than a journeyman director, anonymous and adequate at best, and this is far from his best. The cast is better: Martha Hyer as the wife who begs him to walk away from this fight, Keenan Wynn in the role of the villainous banker, Don Haggerty as the classic old sourdough sidekick, Elam as an amiable town drunk who stands up for Walker's family, and pre-Tarzan Ron Ely as Wynn's troublemaking son. DVD and Blu-ray with a bonus 26-minute interview with star Clint Walker.
Plus:
Robert Taylor stars in the 1957 western "The Hangman" (Olive), playing a Federal Marshall who tracks a wanted man (Jack Lord) to a frontier town, only to find the man has turned his life around and the town stands by him. Michael Curtiz directs and Tina Louise and Fess Parker co-star. Blu-ray and DVD, no supplements.
"Tales That Witness Madness" (Olive), a 1973 film from former Hammer Films director Freddie Francis, was one of the many horror film anthologies produced in the era. This one, set in a psychiatric hospital where the patients share their stories, stars Kim Novak, Joan Collins, Jack Hawkins, and Donald Pleasance. Blu-ray and DVD, no supplements.
"The Spirit is Willing" (Olive) is horror in a comic vein, a ghost story with Sid Caesar, Vera Miles, and Barry Gordon as a family in a haunted New England cottage. William Castle produces and directs and John Astin, Mary Wickes, and Jay C. Flippen co-star. Blu-ray and DVD, no supplements.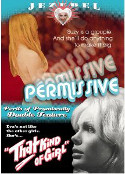 "Permissive / That Kind of Girl" (Kino) is double feature of British counterculture filmmaking of the sixties, the former a 1970s hippie-sploitation drama, the latter a swinging sixties sexploitation tale of a sexy young au pair (Margaret Rose Keil) with VD, which does nothing to deter her suitors. DVD only.
"The Naked Truth" (VCI), a 1957 British comedy, stars Peter Sellers and Terry-Thomas as two victims of a publisher (Dennis Price) of a scandal sheet with a side business in blackmail, who band together for payback. Shirley Eaton and Joan Sims co-star. DVD only.
Peter Sellers is also in "Never Let Go" (VCI), this time playing against type as a sadistic crime boss in a gritty thriller starring Richard Todd as a middle-class man at the breaking point. John Guillerman directs. DVD only.
Theater:
"Aunt Bam's Place" (Lionsgate) is a Tyler Perry play with another sassy aunt (played here by Cassi Davis, of Perry's "House of Payne") around set things straight. Almost as prolific, David E. Talbert presents his "A Fool and His Money" (Image), filmed live on stage with Michael Beach, Cindy Herron-Braggs, and Eddie Griffin.
From the "Globe Theatre on Screen" series come three new stage productions recorded for DVD. Roger Allam won the Olivier Award for Best Actor for his portrayal of Falstaff in "Henry IV, Part 1" (Kultur) and "Henry IV, Part 2" (Kultur), the 2011 production directed by Dominic Dromgoole and co-starring Jamie Parker at Hal. And Dominic Rowan plays "Henry VIII" (Kultur) in a production directed by Mark Rosenblatt and featuring Ian McNeice in an acclaimed performance as Cardinal Wolsey.
"Nunsense Boulevard" (SRO) is yet another "Nunsense" sequel, this one subtitled "The Nunsense Hollywood Bowl Show." The joke is that it's a bowling alley, not the famed concert bowl. Hilarity ensues.
For more releases, see Hot Tips and Top Picks: DVDs, Blu-rays and streaming video for June 26