FEATURED POST
A new edition of the great cult film of moviemaking and madness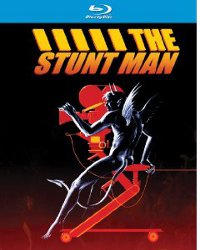 "The Stunt Man" (Severin) on Blu-ray and 2-Disc Special Edition DVD
Richard Rush's brilliant little backstage drama of illusion and reality and moviemaking sleight of hand earned three Oscar nominations and universally glowing reviews, yet is was barely seen on its initial release and became an almost instant cult classic.
Steve Railsback is intense and haunted as the Vietnam Vet on the run from his ghosts as much as from his mysterious crime who winds up sheltered by megalomaniac movie director Peter O'Toole and hired as the film's new stunt man. As he falls in love with leading lady Barbara Hershey and tries to understand the alternately charismatic, sincere, manipulative, monstrous, and mysterious movie director, he loses the ability to tell what's really happening behind the artifice and performance and finally becomes convinced they are out to kill him. The film twists and turns from scene to scene, carrying the audience on the some whirlwind mind-game as Railsback navigates the maze of assumption and appearances.
It's one of the great movie about the movies and a devious exploration of trust in the line between art and life. Adam Rourke (the star of Rush's 1960s biker pictures) is the sardonic movie star that Railsback doubles, Alex Rocco the local cop and Allen Goortwitz is marvelous as the nervous screenwriter with moments of genius, but the unheralded class act of the supporting cast is Chuck Bail, the real life stunt coordinator and second unit director turned actor. His stories and experiences helped color the picture and his easy-going performance as the stunt coordinator of the film within a film is natural, warm and confident.
The Blu-ray debut from Severin includes four original interview featurettes along with the superb supplements from the earlier Anchor Bay special edition DVD. New to this release is the half-hour interview featurette/career retrospective "The Maverick Career of Richard Rush" and three shorter interview featurettes: "Peter O'Toole Recounts The Stunt Man," "Devil's Squadron: An Interview with Steve Railsback and Alex Rocco" and "Barbara Hershey on Nina Franklin," all offering substantial discussions of the film and the filmmaking. "The Stunt Man at The New Beverly" is a video recording of Rush, Railsback and Hershey at a post-screening Q&A and there are two deleted scenes.