FEATURED POST
Plus Johnnie To's 'Life Without Principle,' the thriller 'Gone,' the documentary 'Sing Your Song,' and more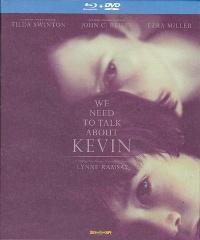 "Man on a Ledge" (Summit), a heist movie pitting talented amateurs against a sleazy millionaire, stars Sam Worthington, Ed Harris, and a very improbable plot. Videodrone's review is here.
In "Coriolanus" (Anchor Bay), Ralph Fiennes returns to a role and an interpretation of the Shakespeare play he debuted on stage more than ten years before and adapts it to the big screen for his feature film directorial debut. Reviewed on Videodrone here.
"We Need To Talk About Kevin" (Oscilloscope), vividly directed by Lynn Ramsay and featuring Tilda Swinton in a distraught performance, is not a psychological drama. It's a horror film of a parent's worst nightmare: a sociopathic child who targets his mothers for personal torment from the moment he's born.
"Director Lynne Ramsay's new film, the long-overdue follow-up to her remarkably distinctive and unsettling "Morvern Callar" (2002), is a very tough sit at times, although, like one of its most distinctive antecedents, the original "The Texas Chainsaw Massacre," it terrorizes by suggesting more than it shows," explains MSN film critic Glenn Kenny. "All the while it delivers a thoroughly nasty raspberry into the face of our cultural exaltation of the state of motherhood."
On DVD and Blu-ray+DVD Combo Pack, with the 27-minute featurette "Behind the Scenes of Kevin," a Q&A with Tilda Swinton from Telluride, an interview with author Lionel Shriver, and video footage (without sound) of the "La Tomatina" tomato festival in Spain. Also available at Redbox kiosks
"The Goon" (Magnet) is Seann William Scott as a former bar bouncer turned enforcer on a minor league hockey team. He can't play but he sure can deliver a bruising body check. MSN film critic Kat Murphy was happily surprised that "it turns out this little movie's a charmer, perfectly calibrated as a sweet, slow-cooking sports comedy (and love story), chock-full of colorful characters who score, on and off the ice, by consistently breaking out of cookie-cutter caricature." Jay Baruchel, Alison Pill, and Liev Schreiber co-star.
Blu-ray and DVD, with commentary by director Michael Dowse and co-writer / co-producer / actor Jay Baruchel, a video conversation with Baruchel and Seann William Scott, deleted scenes and outtakes, and a couple of short featurettes. Exclusive to the Blu-ray is the "Power Play Mode," an interactive mode with access to interviews, behind-the-scenes footage, and alternate takes. Also available at Redbox kiosks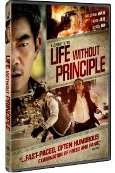 Hong Kong filmmaker Johnnie To looks at the reverberations of the Greek financial crisis from the street in "Life Without Principle" (Vivendi) a fast-paced, sometimes comically-inflected action drama. Using crime movie and melodrama conventions makes for an inspired approach as he weighs the effects through the stories of a homicide detective and his wife trying to buy a home at the height of the real estate bubble, an investment officer working with both struggling retirees and loan sharking gangsters, and a loyal mob soldier trying to save his boss from the sudden market drop.
The oddball happy ending isn't so much unbelievable as a cheeky movie fantasy, a reversal of fortunes for economic naïfs who luck out as the rest of the market trips in the self-destructive rush of greed and panic. It's surely the most entertaining film you'll see about the market crash. DVD only, Cantonese with English subtitles, no supplements. More reviews here.

"Gone" (Summit) stars Amanda Seyfried as the survivor of a serial killer who goes on the hunt for him she believes he kidnapped her younger sister. It was also gone from theaters pretty quickly, thanks to bad reviews and word of mouth. Rolling Stone film critic Peter Travers writes: "There's no thrill in "Gone" because you can see every surprise coming. It lies there flapping like a dying fish. Skip it." Blu-ray and DVD with no supplements. Also available at Redbox kiosks and On Demand.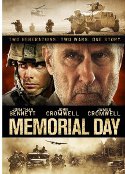 "Memorial Day" (Image) stars James Cromwell as a World War II vet and Jonathan Bennett as his grandson, who remembers his granfather's stories as he faces his own battle scars in Iraq.  New York Times film critic Nathan Lee complains that the film "Moves from clever mock documentary to groan-inducing conceptualism. Mr. Fox may well have put his finger on certain shared impulses between these repellent bacchanalia, but his manner of drawing them out is heavy-handed." Blu-ray and DVD, with filmmaker commentary and behind-the-scenes footage. Also available at Redbox kiosks. More reviews here.
"96 Minutes" (Arc), a thriller about a car-jacking thrill ride gone bad, stars Brittany Snow, Evan Ross, and David Oyelowo. Village Voice film critic Benjamin Mercer writes: "The narrative machinery grows creakier as the plot advances, and the film is a bit too strident about some of the issues at play, but "96 Minutes" is admirably knotty nonetheless." DVD only, with filmmaker commentary. More reviews here.
"Hello Lonesome" (Film Movement) – "Adam Reid's smart, poignant trilogy of interwoven vignettes, manages the considerable feat of creating six fully human characters who are quirky enough to transcend the stereotypes found in a typical indie film," writes New York Times film critic Stephen Holden. DVD only, with Adam Reid's short film "While the Widow is Away." More reviews here.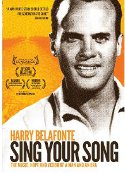 True Stories:
"Sing Your Song" (Docurama) surveys the life of singer / actor / activist Harry Belafonte, both his professional rise and cross-over to a national audience at a time when segregation was still law, and his achievements as an outspoken and active leader in the civil rights movement of the sixties and beyond. Reviews of the acclaimed documentary here. DVD only, with a bonus interview with Belafonte and full-length performances.
"Ultrasuede: In Search of Halston" (Tribeca) profiles the celebrity designer who became a fixture of New York nightlife in the seventies. DVD only, with a deleted scenes and a bonus interview with the director and producer. Reviews here.
"How to Live Forever" (Docurama) looks at the changes human longevity and interviews a whole bunch of really old folks who are still active after the age of 100. DVD only, with over 30 minutes of deleted and extended scenes. Reviews here.
Plus:
"A Necessary Death" (MPI) applies the reality video / mock documentary style to the story of a filmmaker looking to document a real-life suicide. DVD only, with commentary, deleted scenes, and an alternate ending. Reviews here.
"Valley of the Sun" (Monarch) is a comedy about a former porn star (Johnny Whitworth) who ends up living with his parents in a retirement community. DVD only, with a behind-the-scenes featurette.
"Take Me Home" (Monterey) is a romantic comedy in a taxi cab ride from California to New York. Sam Jaeger writes and directs. DVD only. Reviews here.
"The Aggression Scale" (Anchor Bay) pits a pair of mob hitmen against a sociopath in a battle to the death. Blu-ray and DVD, with a featurette.
For more releases, see Hot Tips and Top Picks: DVDs, Blu-rays and streaming video for May 29