FEATURED POST
Plus the original 'Hawaii Five-O' ends and Ricky Gervais in 'An Idiot Abroad'
By 
SeanAx
 Jan 12, 2012 10:58AM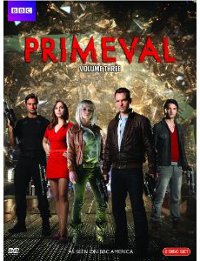 Director/producer Martin Scorsese teams up with "The Sopranos" writer/producer Terence Winter for "Boardwalk Empire: The Complete First Season" (HBO), HBO's gangster drama set in the Atlantic City of the prohibition era. It's a lavishly textured period piece and a smart show, and HBO breaks with release tradition by debuting the first season long after the second season has wrapped on HBO. Reviewed on Videodrone here.
"Primeval: Volume Three" (BBC) features the fourth and fifth series of the British series about a covert team that tracks temporal anomolies -- time cracks between the present and the prehistoric era -- and the creatures (mostly dinosaurs) that wander through them. The third series ended with junior team members Connor and Abby (Andrew-Lee Potts and Hannah Spearritt) trapped in the Cretaceous Period and this collection begins with their return to a whole new ARC team, now led by Matt Anderson (Ciarán McMenamin), and a new set of mysteries and conspiracies.
That makes Connor and Abby the squad veterans, not that their sardonic boss (Ben Miller) gives them any such respect, and Connor almost immediately falls under the sway of private sector entrepreneur and inventor Philip Burton (Alexander Siddig) who has his own plans for manipulating the time-travel technology with the top-secret New Dawn project. That puts Connor is a very awkward position, forced to choose between Abby, who he's been madly in love with since the first episode, and his hero-worship of Philip. And to add spice to the mix, Matt falls in love with a 19th century time-traveler (Ruth Bradley) and third-season star Jason Flemyng (still the liveliest and most entertaining of the show's actors) makes a memorable return appearance.
The budget-minded CGI creatures are good enough for the pulp premise of the show and if the plotting gets a little contrived (how many times can you bend a character's personality to make a plot twist work?), it still hold its own with the average SyFy Channel original. Which is just where this show finds its fan base. 13 episodes on four discs on DVD and Blu-ray, plus the two-part making-of featurette "New Dawn" and prequel webisodes.
See the Series 4 trailer below, after the jump.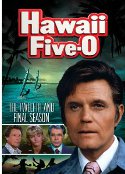 Jack Lord is the last man standing from the original cast in "Hawaii Five-O: The Twelfth and Final Season" (Paramount), which concluded in 1980 after more than 250 episodes. William Smith and Moe Keale join his team as James 'Kimo' Carew (it's not quite Dan-O but it'll do) and Truck Kealoha in the first episode of the final season, a terrific double-length episode with a guest cast including Paul L. Smith, Harry Guardino and Ross Martin, and Sharon Farell joined in the second episode as Lori Wilson. And for fans looking for closure, know that the finale finally pits McGarrett against international crime kingpin and arch-nemesis Wo Fat (Khigh Dhiegh) in an undercover mission and a mano-a-mano showdown. 19 episodes on five discs, no supplements to speak of.
"An Idiot Abroad" (BBC) is a new BBC comedy series with Ricky Gervais and Stephen Merchant (co-creators of "The Office" and "Extras") bringing their dim-witted pal (Karl Pinkerton) on a trip to the wonders of the world… against his will. 8 episodes on two discs, plus supplements.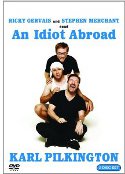 Plus:
"Dennis the Menace: The Final Season" (Shout! Factory), starring Jay North as the tow-haired hurricane of a schoolkid and gale Gordon stepping in as the new Mr. Wilson, features all 38 episodes from the fourth season on five discs. No supplements.
"Diary of a Single Mom" (Image) presents a feature-length version of Robert Townsend's web-series starring Monica Calhoun as the single mom and co-starring Leon, Richard Roundtree, Billy Dee Williams and Diahann Carroll.
"Doctor Who: Invasion of the Dinosaurs" (BBC) features Jon Pertwee as The Doctor and "Doctor Who: The Android Invasion" (BBC) is a Tom Baker adventure. Both releases feature a complete story, plus commentary, featurettes and other supplements.
"G.I. Joe: Series 2, Season 1" (Shout! Factory) features 24 episodes of the 1989 incarnation of the animated series.
Non-fiction TV this week includes two collections of History Channel specials -- "Frozen World: The Story of the Ice Age" (History Channel) and "King Arthur and Medieval Britain" (History Channel) -- and the 2011 public TV documentary "Nova: Finding Life Beyond Earth" (PBS).
For more releases, see Hot Tips and Top Picks: DVDs and Blu-rays for January 10