FEATURED POST
Plus 'Bye Bye Birdie,' 'High Time,' Stallone, and more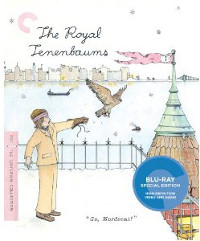 "Jaws" (Universal), Steven Spielberg's meticulously directed, tension filled thrill machine, is the original modern summer blockbuster. It's still one of the best, an elemental monster movie as well-tooled thriller invading the comfort zone of the suburban summer vacation. Videodrone's review is here.
"The Royal Tenenbaums" (Criterion), the wry ensemble comedy from Wes Anderson, stars Gene Hackman as the estranged con man patriarch of a gifted family who attempts to reconnect with his ex-wife (Anjelica Huston) and their children. The former prodigies and geniuses are now lost and tormented adults: writer's-blocked playwright Gwyneth Paltrow, retired Wall street wizard Ben Stiller, and MIA tennis pro Luke Wilson. And you think your family has problems. Anderson's third film, which he co-wrote with Owen Wilson, is a delight, another of his portraits of damaged families and adults trapped in childhood. Reviews here.
Features all the supplements of the previous DVD release: smart, sharp commentary by director Wes Anderson, the 30-minute documentary "With the Filmmaker: Portraits by Albert Maysles" on director Wes Anderson and the making of the film (originally made for the Independent Film Channel), video interviews with Gene Hackman, Anjelica Huston, Ben Stiller, Gwyneth Paltrow, Luke Wilson, Owen Wilson, Bill Murray, and Danny Glover (conducted from the set of the film), a "Studio 360" radio interview with painter Miguel Calderon, the strange mock-talk show "The Peter Bradley Show" featuring painfully inconsequential interviews with bit actors from Anderson's films, two deleted scenes, outtakes and behind-the-scenes footage, galleries of behind-the-scenes stills and artwork, and a booklet with an essay by film critic Kent Jones.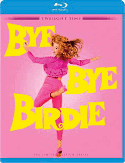 "Bye Bye Birdie" (Twilight Time) is the bright 1963 film version of the Broadway musical starring Ann-Margret as a teenager swooning over an Elvis-like rock star drafted into the army. It's an odd film, a parody of the rock and roll phenomenon by an old-school musical director (George Sidney) and a cast of adults (Dick van Dyke, Janet Leigh, Paul Lynde, and Maureen Stapleton) who voice the establishment perspective, but all the energy comes from firecracker Ann-Margaret. Features an isolated song and music/effects track, the  trailer, and a booklet with notes by Julie Kirgo. Available exclusively from Screen Archives Entertainment.
"High Time" (Twilight Time) stars Bing Crosby as a middle-aged tycoon who goes back to college and gets a jolt  of youth from his fraternity brothers and their loves lives. Fabian and Tuesday Weld co-star, Crosby sings "The Second Time Around," and Blake Edwards directs. Features Henry Mancini's score on an isolated audio track, the  trailer, and a booklet with notes by Julie Kirgo. Available exclusively from Screen Archives Entertainment.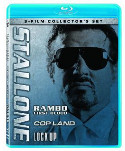 Plus:
"Stallone 3-Film Collector's Set" (Lionsgate) boxes up three previously-released discs in a single case. "First Blood" (1982), rugged survivalist thriller turned on its head that draws its resonance directly from the wounds left by Vietnam, is the best of the trio. The prison film "Lock Up" (1989) and the drama "Cop Land" (1997) complete the set.
"Titanic: 100 Years in 3D" (History) is 45-minute program featuring 3D HD imagery of the wreck.
"La Promesse" (Criterion) and "Rosetta" (Criterion), the breakthrough films from Belgian directors Luc and Jean-Pierre Dardenne, Louis Feuillade's surreal 1914 serial "Les Vampires" (Kino), and Andrzej Wajda's "Korczac" (Kino) also debut on Blu-ray. See "Cool and Classic" for more.
For more releases, see Hot Tips and Top Picks: DVDs, Blu-rays and streaming video for August 14