FEATURED POST
Seven cocktail hour films with Powell and Loy, including five 'Thin Man' movies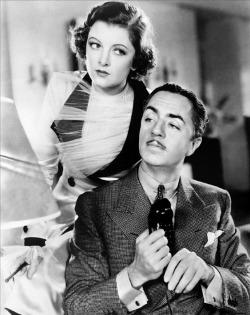 Turner Classic Movies celebrates one of the great romantic screen teams. William Powell and Myrna Loy were the epitome of wit and sophistication with a highball flair and a screwball soul in the 1930s and early 1940s.
On Tuesday, December 18, TCM presents seven of their films, including their signatures series: "The Thin Man," with Powell and Loy as Nick and Nora Charles, the world's most debonair detective team in the cocktail hour of the mystery beat.
"The Thin Man" (1934) is a sparkling adaptation of Dashiell Hammett's novel of a former working class sleuth gone high society and his game social register wife, a playfully-in-love couple with nothing but time on their hands and a highball in their fist who fall into a mystery, much to his chagrin and her delight. Director W.S. Van Dyke reportedly shot this in a whirlwind 12 days, and that rush may have encouraged the tossed-off flavor of the oh-so-suave and sly banter, though it would be nothing without the incomparable chemistry of Powell and Loy. There's a snap to their scenes and they proved such an irresistible pair that they were teamed for another dozen or so films, including the following four sequels.
The pair hardly skip a beat when they return home for New Years Eve in "After the Thin Man" (1936) and stumble into another mystery, this one a scandal that threatens Nora's stuffy, socialite family. W.S. Van Dyke directs again and Jimmy Stewart takes an unconventional role as the prime suspect. Once again, it's the cocktail chemistry between the blasé Powell and the elegantly sexy Loy that makes this snappy sequel crackle.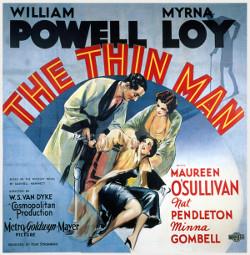 The films shift down into a lower gear for the rest of the series. Nick and Nora have a baby in "Another Thin Man" (1939), adapted from Hammett's "The Farewell Murder," but parenthood doesn't slow their passion for sleuthing when a weekend on a country estate lands them in the midst of a murder and Nick is a suspect. In "Shadow of the Thin Man" (1941), co-starring a very young Donna Reed and featuring a rare performance by stage actress and acting coach Stella Adler, a day at the races becomes embroiled in murder and racketeering. It was the final film in the series to be directed by W.S. Van Dyke. Richard Thorpe takes over for "The Thin Man Goes Home" (1945), where Nick in fact visits mom and dad (Lucile Watson and Harry Davenport) and Nora tries to dig up a mystery so Nick can impress his disapproving dad, and the decline in the series quality is evident.
Instead of the last "Thin Man" movie, TCM includes a matched pair of their lively romantic comedies with screwball curves: "I Love You Again" (1940), a romantic farce involving amnesia, a secret past, and a staid marriage that gets a shot of excitement when a dull, safe Powell reverts to his con-man past and woos wife Loy all over again, this time as a (literally) new man, and "Love Crazy" (1941), playing yet another married couple on the rocks, this time with Powell faking insanity to stop Loy from divorcing him
The days is capped with the 1991 documentary "Myrna Loy: So Nice to Come Home To," a perfectly fine if unexceptional portrait that was made for TNT before Turner created TCM.