FEATURED POST
It's Shakespeare in the Garden in this animated musical
"Gnomeo and Juliet" (Disney)
The Shakespeare romantic drama gets played out by rival families (gangs? herds? colonies?) of garden gnomes from neighboring English garden yards, a feud that's been going on for… well, as long as any of these lawn ornaments can remember. These guys are color coded for easy identification—red hats and blue hats, matching the garish design themes of their dotty old homeowners (the Montagues and Capulets, naturally)—and their shenanigans play out to a score of classic Elton John songs (and two new ones) and a script crammed full of pop-culture references and Shakespeare puns (their address: 2B and Not 2B Verona Drive, Stratford-Upon-Avon)​.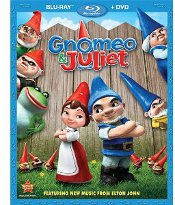 Directed by Kelly Asbury ("Shrek 2") and produced by Elton John through his company, Rocket Productions (which gets him his own gnome figure), "Gnomeo and Juliet" riffs off the "Toy Story" conceit that these inanimate objects get very animated indeed when people aren't looking, and of course two rivals fall in love as the rivalry escalates into acts of ceramic destruction.
"A mixed bag -- of the Bard, in-jokes for grown-ups and slapstick kid stuff -- this primary-colored parable about feuding lawn-ornament clans is easy on the eyes and good for some laffs," writes MSN critic Kat Murphy. "There is cuteness galore in "G & J," and horror, too. But clever charm also abounds, as one slowly suspends disbelief and gets in tune with lawn nightlife." That would be everything from lawnmower races to late-night pranks that resemble frat house wars, and worse, steering the film into darker territory before turning away from Shakespeare's tragic ending for a more colorfully upbeat ending befitting a romantic comedy about kitschy lawn decorations come to life.
"Don't get me wrong," continues Murphy. "I'm all for stuffing rug-rat movies with high- and low-cultural cookies. But I am curious: Are the creators of "G & J" trippin' to amuse themselves? Or to tickle grown-ups who have to sit through the movie with their offspring? My money's on a plot by some anonymous Disney activist to sneak subversive allegory -- think "Animal Farm" -- into "G & J": After all, what's that Red-Blue Civil War but a mirror of America's current political divide?"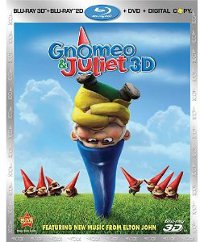 The DVD edition features the bright, brief behind-the-scenes featurette "Elton Builds a Garden" (under six-minutes long), the even shorter "Frog Talk with Ashley Jensen" and the "Crocodile Rock" with Elton John backing Nelly Furtado.
The Blu-ray+DVD Combo Pack adds the micro-featurette "The Fawn of Darkness" (90 seconds of Ozzy Osbourne explaining how voicing a lawn deer was the easiest work he's ever done) and loads of deleted and alternate scenes—including two alternate endings and an alternate opening—all in rough sketch form with full soundtrack. While the alternate version are brief, the six deleted scenes are substantial, some running over 8 minutes long, but they don't really make much of an impression. Which, I guess, is why they were deleted. Each features an introduction by director Kelly Asbury.
There's also a 3-Disc Blu-ray 3D Combo pack with standard 3D, DVD and Digital copies of the film as well.