FEATURED POST
Plus '3' from Germany and the documentary 'Project Nim'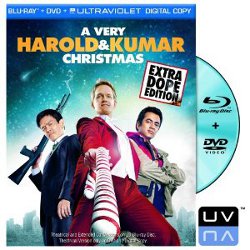 "The Twilight Saga: Breaking Dawn – Part 1" (Summit) delivers the long-awaited the marriage, the marriage night (no more abstinence for these star-crossed kids) and the rather alarming pregnancy of moody Bella Swann (Kristen Stewart) and her vampire swain Edward Cullen (Robert Pattinson). Note that "Dawn" breaks on Saturday, February 11. Videodrone's review is here.
"A Very Harold and Kumar Christmas" (New Line) gets the "truth in advertising" award for 2011 releases. It was actually originally titled "A Very Harold and Kumar 3D Christmas" and that's what the credits read on the DVD and Blu-ray, even though only the Blu-ray 3D edition (which, of course, only plays on 3D compatible Blu-ray players and monitors) features the added dimension. And yet the blatant way the film throws anything and everything at the screen is almost funnier in 2D, as the pure visual exploitation is even more obvious.
3D aside, this Christmas stoner odyssey is, as the title promises, very Harold and Kumar (as embodied by John Cho and Kal Penn). Which means there is copious smoking, an insane amount of other illegal substances (some of them directed to a toddler who takes on almost superhuman powers between giggling fits), rampant racial jokes, a clay animation interlude, and Neil Patrick Harris back in action as a sleazy, sex-addicted, crack-smoking miscreant – and that's after his big song and dance number! "Coming in at a trim 89 minutes, "A Very Harold & Kumar 3D Christmas" not only lives up to its title to the power of 10," proclaims MSN film critic Glenn Kenny, "it also serves up a veritable holiday smorgasbord of remarkably inappropriate humor (a perhaps excessive number of jokes here involve a toddler's exposure to a wide variety of the aforementioned abuse-worthy substances)."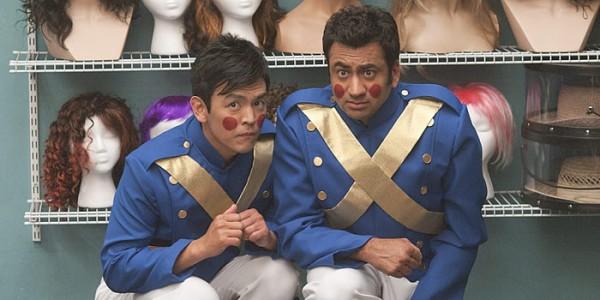 The DVD features three minutes of deleted scenes and an Ultraviolet digital copy, for download and instant streaming. The standard Blu-ray features the R-rated theatrical version plus an extended "Extra Dope Edition" that runs six minutes longer, a short featurette on the Claymation sequence and a collection of comic featurettes with Tom Lennon, plus a bonus DVD version. The Blu-ray 3D Combo Pack is a three disc set with all the above plus the 3D version in a separate disc.
See the trailer below, after the jump.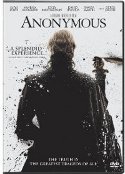 "Anonymous" (Sony), a rare film from Roland Emmerich where nothing blows up, makes the case that Shakespeare was really a front for a British aristocrat (played by Rhys Ifans) and his authorship the result of a conspiracy. "The whole setup plays a little like "The Front" crossed with "Amadeus," only not as good and a whole lot more vulgar than either," explains MSN film critic Glenn Kenny. "Even though Emmerich is working with ostensibly more refined material here, the ham-handed touch of the man who gave us "The Day After Tomorrow" and "2012" is felt quite heavily throughout." Note that it actually earned an Oscar nomination: for costume design. Blu-ray and DVD, with commentary by Emmerich and writer John Orloff, deleted scenes and a featurette. The Blu-ray also include additional deleted scenes and featurettes. Also available at Redbox. See the trailer below.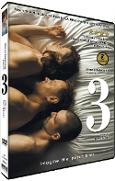 "3" (Strand), from director Tom Tykwer ("Run Lola Run"), is quite possibly the most romantic portrait of a ménage-a-trois ever put on screen. This romantic/erotic triangle is built on the emotional lives of its characters rather than plot tropes of manipulative seductions and erotic competition. This tale of free love reinvigorating a relationship falling into lethargy is actually quite freeing and Tykwer offers a sympathetic perspective on the experience. And along with the hurt and healing is Tykwer's usual flair of interesting cinematic architecture and unusual cultural byways. More reviews here. In German with English subtitles. DVD only. See the trailer below.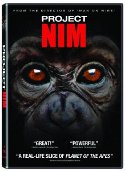 "Project Nim" (Lionsgate) is Videodrone's documentary pick of the week. Though it didn't end up with an Oscar nomination, this provocative documentary about the real-life ordeal a chimp raised like a human child and then abandoned to animal preserves and laboratory experiments is thoroughly engaging and often surprising. What begins as a look at one of the most famous studies in behavior and learning (essentially a real-life version of "Bedtime for Bonzo") ends up saying as much about the people involved and the failures (and in too few instances the success) of the humans involved to protect their simian charge as they would a real child, or at least a creature they love as much as they claim. It earned awards from Sundance, The National Board of Review and the Director's Guild of America. More reviews here. The DVD features commentary by director James Marsh and two featurettes. Also available via Digital Download and On Demand.
Another documentary, "Knuckle" (Arc Entertainment), about the underground fighting culture of the Irish Traveler community, debuts this week as well. " It's a documentary built on both unprecedented and unpredictable access to a subject and a world that took place over a 12-year span, and it's fascinating," recommends MSN film critic James Rocchi. DVD only, no supplements.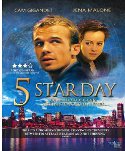 Cam Gigandet and Jena Malone star in the astrology-themed romantic comedy "5 Star Day" (Breaking Glass). The film "boasts a promising premise, convincing chemistry between its attractive leads and fine thesping by a defensively edgy Jena Malone," writes Variety film critic Ronnie Scheib. "But the uneven script, repetitive tropes and over-indulgence of actorly bits slow the pace, tipping youthful casualness into complacency." DVD only, with commentary by director Danny Buday and the cinematographer, deleted scenes, a featurette and a bonus short film by the director. Also available at Redbox.
Ryan Reynolds, Willem Dafoe, and Julia Roberts star in the family drama "Fireflies in the Garden" (Sony) from writer/director Dennis Lee, which bounces between family gatherings 22 years apart and the crises that define each event. "Mr. Lee gathers together a lifetime of hurt without conveying that there's something personal at stake," complains New York Times film  critic Manohla Dargis. DVD only, with a featurette. Also available at Redbox.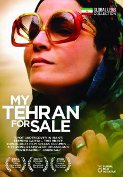 More Foreign Affairs:
"My Tehran For Sale" (Global Film Initiative), about a dying Iranian actress (Marzieh Vafamehr) recounting her struggle as an artist in repressive culture while requesting political asylum, is directed by poet-turned-filmmake​r Granaz Moussavi. The film became much more famous, however, when its star, Marzieh Vafamehr, was sentenced to 90 lashes (overturned after an international outcry) and a year in prison by the Iranian regime for appearing in the film with her head uncovered. In Farsi and English with English subtitles. DVD only. See the trailer below.

"Yakuza Weapon" (Well Go) is an extreme action movie from Japan with gangsters who have grafted weapons right onto their bodies, directed by Tak Sakaguchi ("Samurai Zombie") and Yûdai Yamaguchi ("Battlefield Baseball"). Blu-ray and DVD, with deleted scenes, a featurette and a spin-of short film.
"Adrift" (Global Film Initiative) is a Vietnamese drama about a newlywed couple, an unconsummated marriage and a dangerous affair. DVD only.
"Vasermil" (Film Movement), from Israel, follows three boys in a small town pinning their success on a soccer tournament. DVD only, with a bonus short.
"Karen Cries on the Bus" (Film Movement), from Colombia, follows a woman trying to start over after ten years of a bad marriage. DVD only, with a bonus short.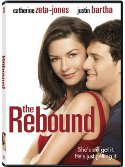 Also new this week:
"The Rebound" (Fox) stars Catherine Zeta-Jones as a newly-divorced woman who moves her kids to Manhattan and lands in a romance with a handsome young guy (Justin Bartha) 15 years younger than her. Blu-ray and DVD, with cast and director interviews.
"What Happens Next" (Wolfe), a romantic comedy with a gay theme, stars Jon Lindstrom, Chris Murrah and Wendie Malick.
"Stormhouse" (Lionsgate) pits science versus the supernatural in a military experiment.
"Dead Hooker in a Trunk" (IFC) – A low-budget thriller (written and directed by and starring identical twin sisters Jen and Sylvia Soska) with the premise right in the title.
"Spiderhole" (IFC) is a British horror film about an abandoned house with nasty secrets that a group of young squatter soon discover.
"Fred 2: Night of the Living Fred" (Lionsgate) is the second movie spin-off of the web comedy series.
For more releases, see Hot Tips and Top Picks: DVDs, Blu-rays and streaming video for February 7