FEATURED POST
The underdog drama of two unlikely British heroes of the 1924 Olympics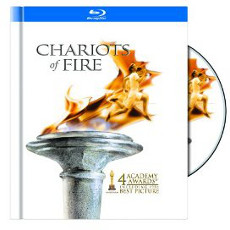 "Chariots of Fire" (Warner) – Winner of the 1981 Academy Award for Best Picture, Hugh Hudson's dramatization of the 1924 Olympics and the two outsiders of the British class system who race to glory in the track competition is an underdog film in every sense of the word.
See an exclusive clip from the Blu-ray below.
It was developed and produced by David Puttnam, who found the story and gave Hudson his first shot a directing a feature film, and it won four Oscars (it also won for Best Original Screenplay and Best Score, by Vangelis) with nary a star in the cast. Ben Cross and Ian Charleson play the runners, Ian Holm has a meaty, showy role as an Italian running coach, and Nigel Havers, Alice Krige, Cheryl Campbell, Nigel Davenport, Dennis Christopher, and Brad Davis co-star, with small roles by John Gielgud, Lindsay Anderson, and Patrick Magee. New York Times critic Vincent Canby describes it as "a celebration of a number of things, not the least of which is a kind of highly committed, emotionally involving drama that knows the difference between sentiment and sentimentality…. Though "Chariots of Fire" is mostly about the very privileged, it is so carefully balanced that it doesn't deny the realities of lives less privileged. It's an exceptional film, about some exceptional people." More reviews here.
The film debuts on Blu-ray in an illustrated Warner Blu-ray Book edition with notes and stills, plus supplements. Carried over from the previous DVD special edition is a commentary track by director Hugh Hudson, two featurettes ("Wings on Their Heels: The Making of Chariots of Fire" and "Chariots of Fire: A Reunion,"), deleted scene, and screen tests.
New to this edition are three original featurettes -- "Paris, 1924: Birth of the Modern Olympics," "David Puttnam: A Cinematic Champion," and "Hugh Hudson: Journey to the Gold" – and a CD sampler with four tracks from the Vangelis score.
See an exclusive clip from the supplements below, after the jump. Just click on the "More" link.
For more releases, see Hot Tips and Top Picks: DVDs, Blu-rays and streaming video for the week of July 10