FEATURED POST
Four B-movies with The Duke just as he broke out with 'Stagecoach'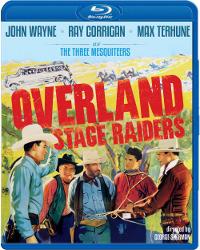 Four of the eight "The Three Mesquiteers" westerns that John Wayne made for Republic Pictures between 1938 and 1939 debut on DVD and Blu-ray in fine new masters from Olive pictures. Wayne plays Stony Brook alongside Ray Corrigan as Tucson Smith and Max Terhune as Lullaby Johnson.
These films straddle old-style westerns and the modern world. The 1938 "Overland Stage Raiders" (Olive), Wayne's second turn as Stony and the earliest of the four films, features a criminal gang stealing payrolls on horseback, except their targets are a local bus line and, later, an airplane service that Stony buys into. It's a breezy, brisk B-western with plenty of personality, made just as John Wayne was breaking out as a major star in "Stagecoach." It's also the final film appearance of Louise Brooks, who you might not even recognize without her trademark bob (aka the Louise Brooks cut).
"Red River Range" (Olive), "Three Texas Steers" (Olive), and "The Night Riders" (Olive), all from 1939 and, like "Overland," running under an hour, complete this batch of "Mesquiteers." George Sherman (who graduated from B-pictures to direct Wayne in "Big Jake" in 1971) directs all four films. All on Blu-ray and DVD. No supplements.
"Train of Life" (Olive), from Romanian director Radu Milhaileanu, is a Holocaust fairy tale about a wild plan to save a small European town from the Nazis. Blu-ray and DVD. Reviews here.
"David Blaine: Decade of Magic" (Virgil) is a two-disc set with three of his most famous stunts and a collection of bonus featurettes (including his TED talk).
For more releases, see Hot Tips and Top Picks: DVDs, Blu-rays and streaming video for week of October 2