FEATURED POST
Steven Soderbergh and Channing Tatum team up for the biggest indie hit of 2012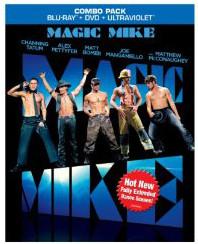 "Magic Mike" (Warner) is one of the success stories of 2012. While megabudget spectacles and potential tentpole films collapsed under the weight of heavy productions over flimsy scripts, Steven Soderbergh took a story inspired by actor Channing Tatum's early experiences as a male stripper and a budget that wouldn't pay for the reshoots on "Battleship" and delivered a film that took in over $110 million, over 15 times its budget.
Tatum's Magic Mike is a hard-working guy in Tampa, Florida, constantly on the hustle, working under-the-table construction by day, headlining a male strip club on weekends, and working the angles in between, and Alex Pettyfer is his protégé, you might say. This is a world of tawdry glamour, street hustle, and working class desperation, and Soderbergh, star/co-producer Tatum, and screenwriter Reid Carolin do a great job of showing us how it works as a business and how it seduces as a lifestyle.
There is, of course, a cast of good looking men stripping down to g-strings and grinding their oiled hardbodies for a crowd of screaming women (among them Matt Bomer of "White Collar," Joe Manganiello of "True Blood," and Adam Rodriguez of "CSI: Miami"). It's no secret that the film pulled in a cross-over audience of both women and gay men by offering the same spectacle that the movies constantly deliver to straight men. But "Magic Mike" is no exploitation film, nor an exposé of the dangers of this culture, nor a celebration of it. It's a character drama with some superb characters and a terrific, grown-up romance with a young woman (Cody Horn) who is physically attracted to Mike but wary of his easy lifestyle and constantly-delayed dreams.
Matthew McConaughey uses the drawling, at times oily charm to play a low-rent impresario determined to move his weekend enterprise into prime-time Miami and he's superb, and yet it's Tatum who impresses here. Previously the pretty boy eye candy of chick flicks and hunky hero of anonymous action films, he becomes leading man who brings the weight of experience to a guy assumed only to be a pretty face. At once confident and clumsy, he reminds us that Mike hasn't got it all figured out and has a tendency to coast on what's working for him rather than taking a chance on what matters to him.
More from MSN film critic Kat Murphy, who praises the film as "a funny, exhilarating, down-and-dirty celebration of a different breed of costumed superstud -- and a much earthier brand of bumping and grinding."
The Blu-ray and DVD editions both include the seven-minute featurette "Backstage on Magic Mike," with Channing Tatum, his co-stars, and the choreographers and designers, all discussing turning actors into dancers with set pieces.
The Blu-ray edition also features the full-length version of the film's dance sequences and a "Dance Play Mode" that plays all the routines back-to-back. In other words, turning your screening room into a private strip club. And it includes bonus DVD and UltraViolet digital copy for download and instant streaming.
Also available On Demand.
See the trailer after the jump. Click on "More" below.
For more releases, see Hot Tips and Top Picks: DVDs, Blu-rays and streaming video for week of October 23