FEATURED POST
Seventies grindhouse excess for a new generation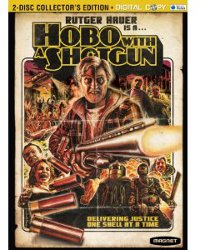 Originally concocted as a faux trailer for the Quentin Tarantino and Robert Rodriguez "Grindhouse" Trailer Competition and later expanded in an utterly unhinged feature in its own right, "Hobo With a Shotgun" (Magnolia/Magnet), a blood-spattered love letter to the grindhouse vengeance movie by first-time filmmakers who, as Spinal Tap might put it, crank everything up to 11.
Rutger Hauer offers his most endearing performance in a decade as the grizzled old hobo who rides the rails into a grim little town where organized crime runs rampant and makes a circus of their sadistic control. All this gentle wanderer wants to do is cut lawns but when faced with sadistic thugs, abusive pimps, corrupt cops and a populace turned into fodder for the amusement of a cackling crime lord named The Drake (Brian Downey), who thinks nothing of televising his antics, he picks up a shotgun and goes all "Walking Tall" on the place, taking justice one shell at a time.
It's not exactly a spoof but director Jason Eisener and his collaborators know enough to embrace the excess with a knowing wink and a tongue-in-cheek outrageousness. They really know what a seventies grindhouse/exploitat​ion movie looks like and they push it over the top in all the right ways, starting with the over-saturated palette of the actual Technicolor 35mm film that burns the color into the screen.
This piece of pulp excess doesn't exist in any realm close to the real world—what criminal mastermind murders his customer base faster than he can replenish it just for grins—but if it makes for a lousy business plan, it also offers a twistedly entertaining spectacle of old-school mayhem, accomplished with mountains of latex and gallons of blood and dummy heads, not mention a pair of steampunk robot killers called The Plague. The Drake and his doting fratboy-on-crank sons could teach Caligula a thing or two.
"Maybe "Hobo With a Shotgun" is some kind of "gutter" art, as ludicrous as it is lurid," writes MSN film critic Kat Murphy. "But wow! Does this cinematic jeu d'esprit ever gobsmack your eyes and nerve endings. And in such high-camp trash, what else signifies but kinesis and style?"
Available on a single-disc DVD, with supplements reserved for the two-disc DVD Special Edition and Blu-ray. Along with two commentary tracks (one by director Eisener and star Hauer, the other by Eisener, writer John Davies, producer Rob Cotterill, and David Brunt, who played the hobo in the original trailer) is the "Shotgun Mode," an interactive mode with instant access to featurettes at key points in the film (you can access featurettes separately as well) and the 45-minute "More Blood, More Heart: The Making of Hobo With a Shotgun," a lovingly-produced portrait of the inspiration and production. It's maybe a little too affectionate but then these first-timers earned the recognition. There are also deleted scenes, an alternate ending, video blogs, a camera test reel, Fangoria interviews with Eisener and Hauer, an HDnet featurette, the original "Grindhouse" trailer, bonus faux-trailer contest winner "Van Gore," trailers and a bonus digital copy.