FEATURED POST
The Hasbro game is turned into a splashy action spectacle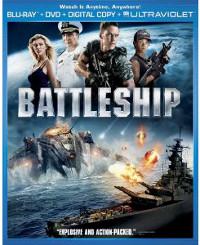 "Battleship" (Universal) - Poor Taylor Kitsch. The break-out star of TV's "Friday Night Lights" leapt into mega-budget big screen spectacle with both feet and ended up headlining the two biggest tentpole flops (or at least the two most notorious megabudget underperformers) of 2012: "John Carter" and this, a navy-versus-aliens spectacle loosely inspired by a Hasbro board game.
Kitsch stars as the Hawaii beach bum who joins the Navy to get out of a jail sentence and ends up at ground zero of an alien invasion during what are supposed to be routine naval exercises. Did I mention his brother (Alexander Skarsgard) is a career Navy man? Or that he's involved with the dishy daughter (Brooklyn Decker) of the hard-case fleet commander (Liam Neeson)? Or did you just assume that was part of the backstory? Rihanna co-stars as an officer who jumps into the fray.
""Battleship" sounded like a truly tedious cross-marketing platform masquerading as a movie," admits MSN film critic James Rocchi. "What a surprise, then, that it winds up being a truly great summertime film, a big, bold blast so swaggeringly expressed and self-knowingly built that it wins you over with its sheer bravado."
Peter Berg directs and Rocchi attributes the film's success, and its mix of humor and engaging action, to his guidance. "While it knows it's a summertime shoot-em-'up based on a game, it also knows that men and women in our real armed forces are in harm's way right now while following a noble calling to serve their nation, and it manages to be smart and exciting about those two seemingly contradictory facts."
While the film (along with "John Carter") was all but written off before it opened and has been branded a flop thanks to a poor American run, it's actually made money overseas (Hollywood spectacle travels well). James Rocchi is one of the lonely voices in what has been a film critic pile-on (he's even quoted on the disc). In his words, the film "was supposed to be a dud, but it's aimed in the right place, packed with brains and heart, and explosively fun."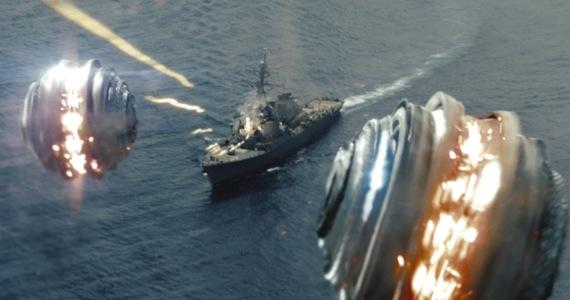 The Blu-ray and DVD all include the featurettes "Preparing for Battle" (about adapting a game into a movie), "All Hands on Deck: The Cast," and "Engage in Battle" (the cast and crew discuss shooting at sea and on naval ships).
Exclusive to the Blu-ray Combo Pack is "All Access with Peter Berg," an interactive picture-in-picture audio-video track hosted by Berg, who drops in to introduce behind-the-scenes clips and other diversions. Also on the Blu-ray is a look at the alternate ending (in pre-visualization form only) with commentary by Peter Berg, "The Visual Effects of Battleship," an extensive video tour of the USS Missouri with Berg, the behind-the-scenes montage "Commander Pete," and the option to synch up a laptop or tablet for the "Second Screen" experience. The set also includes a bonus DVD, digital copy (downloadable from  iTunes) and Ultraviolet for download and instant streaming on compatible devices.
Also available On Demand and via digital download.
See a clip from the Blu-ray after the jump. Just click on "More" below.
For more releases, see Hot Tips and Top Picks: DVDs, Blu-rays and streaming video for week of August 28