FEATURED POST
Plus 'Johnny Carson,' the British comedy 'The Inbetweeners,' and much more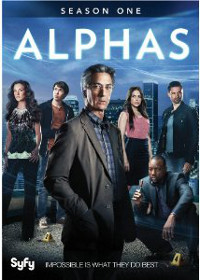 "Eureka: Season 5 – The Final Season" (Universal) brings the most popular show on the SyFy network to a close, and arrives on DVD just days after the series finale airs on SyFy. Videodrone's review is here.
"Alphas: Season One" (Universal) is the SyFy channel's answer to "X-Men" on a budget. Created by Zak Penn (whose superhero credentials include screenplay contributions to "X2," "The Incredible Hulk," and "The Avengers," among others), it centers on a crew of misfit mutants called "alphas" drafted by the government to use their special abilities in a special unit to find and, when necessary, fight others with unique powers.
David Strathairn's Dr. Rosen anchors the show as the human (non-Alpha) psychiatrist who is also the paternal unit leader, dedicated to helping his people keep a handle on the sometimes emotionally and physically debilitating effects of their abilities, be it adrenaline-boosted strength (Malik Yoba as the mission leader), heightened senses (Azita Ghanizada), the ability to see and tap into the entire electromagnetic spectrum (Ryan Cartwright), the power to push suggestions into the minds of others (Laura Mennell), or the uncanny ability to hit any target (Warren Christie).
There's nothing unique about this variation on a theme, which recalls "The X-Files" and "Fringe" (among other shows) on a cable TV budget. Apart from the usual character conflicts and familiar struggles with self-esteem, all that this show really had in its pocket (besides the high-concept twist in the freak-of-the-week roll call of super-powered targets) is the slow-building suggestion that the government is not serving any interest but their own and this team may be on the wrong side of the fight. They've been tasked with shutting down an underground resistance group of alphas (branded a "terrorist organization" by the government) and even our heroes are treated with wary suspicion by the government officials in charge of the unit.
All the potentially interesting psychological angles are handled in the most obvious, least interesting ways. There is a potentially interesting show here, if only they would stop treating it like a comic book and more like a crucible for actual human drama and conceptual exploration.
11 episodes on three discs, with an extended cut of the premiere episode (running a healthy 82 minutes), footage from the "Alphas" panel at the 2011 Comic-Con featuring David Strathairn, Zak Penn and executive producer Ira Steven Behr, and Q&A sessions with Strathairn, Christie, Yoba, and Penn and Behr answering questions sent via Facebook. On DVD only. The second season begins  in mid-July on SyFy.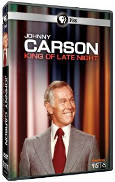 "Johnny Carson: King of Late Night" (PBS), originally made for the PBS arts showcase "American Masters," is a feature-length documentary on the life, career, and legacy of Johnny Carson, quite possibly the biggest star that television has ever produced, and one of the most private. This production, directed by Peter Jones and narrated by Kevin Spacey, features unprecedented access to the Carson archives and a wealth of interviews with contemporary entertainers whose careers were all influenced by Carson. Writes Los Angeles Times television critic Robert Lloyd, "Even when, in an attempt to touch every base (some of them repeatedly), the film wanders, it is still good to watch — especially since, as a celebrity in a golden age of photojournalism, Carson was photographed often and well." Blu-ray and DVD, plus interview outtakes and behind-the-scenes footage of Kevin Spacey's voice-over sessions.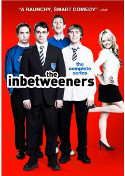 "The Inbetweeners: The Complete Series" (eOne) is a high school comedy of misfit boys as only British would do it: full of sex-obsessed teens who never censor their thoughts or impulses, which results in foul language and raunchy humor pushed to levels you would never see on American TV. Simon Bird stars as the awkward private school kid suddenly reduced to public school, where he is even more out of place, and finding a group of equally outcast kids (played by James Buckley, Blake Harrison, and Joe Thomas) to hang with. They are all wankers, as one would say on Britain, but they are wankers together: "Three friends that almost make someone like me look normal." Almost. The episodes revolve around their fumbling attempts to be cool, get girls, or just do the things that normal teen boys do, and how they inevitably spiral into disaster. You have to hand it to these boys: they are consistent. As in consistently sabotaging their own plans. And be warned: the material would at the very least get a PG-13 rating if it showed up in an American film. Three seasons and 18 episodes on three discs, plus commentary on over half the episodes, video diaries, multiple featurettes, deleted scenes and outtakes among the supplements. DVD only.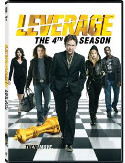 "Leverage: The 4th Season" (Fox) opens with a job that takes the team (former insurance investigator Timothy Hutton and Gina Bellman, Christian Kane, Aldis Hodge, and Beth Riesgraf as his crew of colorful thieves and con artists) to Alaska, which is one of the benefits of the show's relocation to shooting in Portland, Oregon (where Mt. Hood doubled for the northern state). In fact, the show seems to have gotten a boost this season; the high concept heist / confidence game series maintains a pretty good level of quality throughout as they fend off the surveillance of mystery man who wants to use the team's jobs for his own gain, and comes to an eventful end that serves as a springboard for a fresh start in Season Five (which just kicked off on TNT). This cable series goes for escapism over drama and delivers action-movie flair, snappy writing, likable (if eccentric) characters and plenty of cheeky humor, and this season it succeeds nicely. 16 episodes on four discs in a standard cast with hinged trays, with commentary on every episode, a parody of the episode "The Office Job," featurettes and deleted scenes.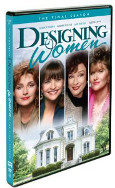 Another season:
"Designing Women: The Final Season" (Shout! Factory) features the final line-up of the cast (Dixie Carter, Annie Potts, Jan Hooks, and Judith Ivey, plus Mesach Taylor and Alice Ghostley) in the seventh season of the hit sitcom created by Linda Bloodworth-Thomason.​ 22 episodes on four discs.
"Bonanza: The Official Third Season, Volumes 1 & 2" (Paramount) features 34 episodes across nine discs in two volumes with the Cartwright boys (Pernell Roberts, Dan Blocker and Michael Landon) and their dad (Lorne Greene) on the frontier. The sets (available separately or in a package) present the complete, uncut episodes as originally broadcast (not the syndication versions), plus guest star commentary on select episodes, bonus programs featuring "Bonanza" stars, featurettes, archival promos, and other supplements.
"Sanctuary: The Complete Fourth Season" (eOne) features "Stargate" TV veteran Amanda Tapping as the head of a secret squad that searches and protects strange and supernatural beings living among us. That includes Bigfoot, played by Christopher Heyerdahl, late of "Hell on Wheels" and the fifth season of "True Blood." Blu-ray and DVD, 13 episodes on four discs, plus commentary on five episodes, four featurettes, deleted scenes and bloopers.
Reality TV: "IRT Deadliest Roads: Season Two – The Andes" (History) features 13 episodes on four discs and "Storage Wars: Volume Three" (A&E) 16 episodes from Season Two on two discs.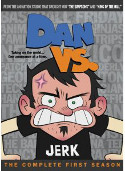 Plus:
"Dan Vs.: The Complete First Season" (Anchor Bay) is a made-for-cable animated series about a hothead (voiced by Curtis Armstrong) who thinks the world is out to get him and plots his revenge against all manner of nemesis, from his dentist to the state of New Mexico. Dave Foley and Paget Brewster are also featured in the voice cast. 22 episodes on three discs, plus animatics for one episode.
"Finding Your Roots with Henry Louis Gates Jr." (PBS) delves into the family trees of authors, actors, musicians, athletes, educators, and intellectuals to discover their cultural and ethnic roots along with stories and figures that had been forgotten or lost through the generation. Ten episodes on three discs, DVD only.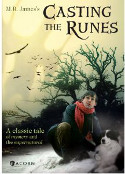 "Casting the Runes" (Acorn) is the British made-for-TV version of the M.R. James story of supernatural mystery from 1976. The program is only 47 minutes long, but the disc includes a bonus M.R. James adaptation of "Mr. Humphries and His Inheritance" and the documentary "A Pleasant Life of Terror: The Life and Ghosts of M.R. James."
"James May's 20th Century" (Acorn) features all six episodes of the British non-fiction series on technological innovations presented by the "Top Gear" host, plus three episodes of his follow-up series "James May's Big Ideas," in a three-disc box set.
"Bill Moyers: On Addiction" (Acorn) presents five episodes of the 1998 documentary series produced for PBS, plus a bonus program and a viewer's guide.
"Scooby-Doo Laff-A-Lympics: Spooky Games" (Warner) features 13 episodes from the animated series, including an all-new special episode.
For more releases, see Hot Tips and Top Picks: DVDs, Blu-rays and streaming video for the week of July 17