FEATURED POST
Robert Rodriguez's whimsical junior secret agent trilogy debuts on Blu-ray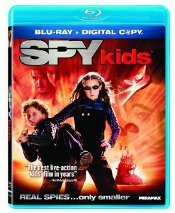 With the impending release of "Spy Kids: All the Time in the World in 4D," Paramount debuts Robert Rodriguez's original junior secret agent trilogy "Spy Kids" (Lionsgate), "Spy Kids 2: The Island of Lost Dreams" (Lionsgate) and "Spy Kids 3: Game Over" (Lionsgate) on Blu-ray (in separate editions). Here's the scoop on them.
Alexa Vega and Daryl Sabara star as the bickering siblings who discover that their parents (Antonio Banderas and Carla Gugino) are really international spies in "Spy Kids" (2001) join the family business when mom and dad are kidnapped by an evil mastermind (a nefarious children's TV show host played by Alan Cumming). Rodriguez has a real affinity with kids and fills their odyssey with such real world hurdles as sibling rivalry and lack of self confidence in addition to the wicked supervillains, enemy spies, and double agents. And being something of a big kid himself at heart, Rodriguez fills the film with spy gadgets more like toys than weapons and lots of slapstick humor, but he adds even more levels of whimsical fantasy in the sequels.
"Spy Kids 2: The Island of Lost Dreams" (2002) promotes the schoolkid siblings to full-fledged agent status and sends them on an assignment to a mysterious island hidden in the Bermuda triangle that is equal parts "Island of Dr. Moreau" genetic zoo (watched over by Steve Buscemi in high nebbish mode as Dr. Romero) and Ray Harryhausen fantasy (including raising the famous fighting skeletons for a swashbuckling bit of action, done up with a Rodriguez's goofy sense of humor). The preposterous dream-creatures are hatched with a childlike love of puns (spider-monkey, bull-frog, and could that flying sow be one of Pink Floyd's pigs on the wing?) and raised with digital technology. Too bad the adult world subplots are flat under the frenzied direction, even with Ricardo Mantalban (in a souped-up wheelchair) and Holland Taylor as the know-it-all in-laws joining super-agent parents Banderas and Gugino.
"Spy Kids 3: Game Over" (2003) hands the reigns over to Daryl Sabara, who has left the secret agent game and narrates his lonely life as a pint sized private eye with the alienated cynicism only a tween-age boy raised on cartoons and old movies could muster. Called back into service to rescue his sister from a mumble-mouth computer genius (Sylvester Stallone), he steps into an interactive on-line virtual reality video game that threatens to steal the mind of every child that enters its world. Sort of like real video games. The film was released to theaters and DVD in the old-style 3D with red and blue filter glasses, which is why it looks like Rodriguez is flinging every possible object into the screen, but it arrives on Blu-ray in straight 2D, which is just fine. That old process was a real eyestrain.
Rodriguez offers up commentary on films 2 and 3 and chapters of his signature "Ten Minute Film School," a series of short, sharp, informative featurettes that are among the most useful primers in practical filmmaking, for all three discs. There are also additional featurettes, deleted scenes and other supplements and each release also includes a bonus disc with a digital copy of the film.