FEATURED POST
Plus double features of spaghetti westerns and American indies and more
By 
SeanAx
 May 31, 2012 12:26PM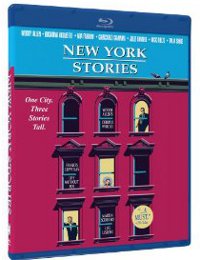 "Summer Interlude" (Criterion) and "Summer With Monika" (Criterion), the tenth and twelfth films (respectively) directed by Ingmar Bergman, debut on Blu-ray as well as DVD (reviewed on Videodrone here), and Kino offers three erotic horrors from cult director Jean Rollin: "The Rape of the Vampire" (Kino Lorber), "Requiem For a Vampire" (Kino Lorber), and "The Demoniacs" (Kino Lorber). Reviewed on Videodrone here.
Martin Scorsese's restless "Life Lessons" is the highlight of "New York Stories" (Mill Creek), the 1989 anthology from three American class acts. Nick Nolte stars as an emotionally immature but highly successful bear of an artist who comes to life when he's creating, the only time he can take his mind off his infatuation with young assistant Rosanna Arquette. It's a marvelous miniature made from a sharp script by Richard Price and filled with music, color, and one of the most passionate portrayals of an artist throwing himself into his work put on film. Francis Coppola directs the sweet and impressionistic but unfocused "Life Without Zoe" from a script by his daughter, future director Sophia Coppola, and Woody Allen directs and stars in the often hilarious "Oedipus Wrecks," about a neurotic middle aged man whose life becomes dominated (quite literally) by a kvetching Jewish mother (Mae Questel, the voice of Betty Boop!) who suddenly appears in the New York sky to tell the world about her boy. Mill Creek releases the Touchstone film with no supplements beyond the trailer.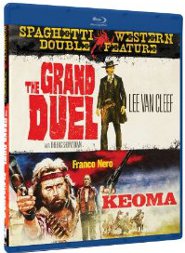 "The Grand Duel / Keoma: Spaghetti Western Double Feature" (Mill Creek) presents two classics of Italian western cinema. Lee Van Cleef stars in "The Grand Duel" (1972), directed by Giancarli Santi (who apprenticed as Sergio Leone's assistant on "The Good, The Bad, and the Ugly" and "Once Upon a Time in the West"). He's a lawman who takes the law into his own hands to help a fugitive on the run from bounty hunters, and the dueling manages to work  in some trampoline-powered acrobatics. "The Grand Duel" has been a familiar title for bargain bin DVDs and video tapes for years but the Blu-ray debut features a strong image from a good master, easily the best it's looked on home video.
"Keoma" (1976) is probably the last great spaghetti western, a thoroughly cynical portrait of greed, cruelty, depravity, and prejudice in an isolated town suffering from both plague and an outlaw gang. Franco Nero is the half-Indian hero, returned from the Civil War to find his home a veritable ghost town and the survivors become veritable jackals, and he teams up with his family's former slave (Woody Strode) to take on his half brothers in a battle for the town. Director Enzo G. Castellari was a jack of all trades in Italian genre cinema and one of Tarantino's favorites (he was so much a fan he appropriated the title of Castellari's "The Inglorious Bastards" for his own World War II film). This is one of his best. Two films on one disc, no supplements.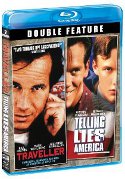 "Traveller / Telling Lies in America: Double Feature" (Shout! Factory) offers a pair of independent dramas from 1997. "Traveller," a labor of love from actor/producer Bill Paxton, is a funky little tale of gypsy con artists in the rural South preying on farmers, homeowners and other unsuspecting victims, and co-stars Mark Wahlberg as his young novice partner in con. "Telling Lies in America" is a semi-autobiographica​l screenplay by one-time Hollywood screenwriting superstar Joe Esterhas, recalling his youth as the young son of Hungarian immigrants who starts hanging out with a scheming DJ (Kevin Bacon). Brad Renfro, Maximilian Schell, and Calista Flockhart co-star. Two films on one disc, no supplements. 
Plus:
"D.O.A." (Mill Creek) is the 1988 remake of the film noir classic, with Dennis Quaid as a college literature English professor who is poisoned and has 24 hours to find his killer before he dies.
"Before and After" (Mill Creek) stars Meryl Streep and Liam Neeson as parents struggling with how to best protect their son when he's accused of murdering his girlfriend. Barbet Schroeder directs and Edward Furlong co-stars.
"White Squall" (Mill Creek), directed by Ridley Scott, is a survival story with Jeff Bridges and a crew of seafaring students (including Scott Wolf, Jeremy Sisto, Ryan Phillippe, and Balthazar Getty) on a sail boat caught in a terrible storm.
For more releases, see Hot Tips and Top Picks: DVDs, Blu-rays and streaming video for May 29