FEATURED POST
More from the smartest and most daring shows sitcom on TV
By 
SeanAx
 Jun 19, 2012 11:31AM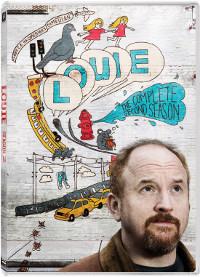 "Louie: The Complete Second Season" (Fox) continues the FX original series from Louis C.K., hailed by many critics as one of the smartest and most daring shows on TV. "Louie" is a sitcom by strict definition but not like any you've ever seen. Playing essentially a version of himself, he's a working comedian, a devoted (if sometimes overwhelmed and confused) divorced dad and a fumbling forty two-year-old single man in a dating scene he doesn't feel comfortable in. The shows work through these and other situations (a visit to the doctor, taking on a heckler) without the usual sitcom structure.
Like "Seinfeld," the shows are framed by his stand-up act but the resemblance ends there. Drawing from everyday events of his own life, "Louis" finds the absurdity in the mundane and pushes the envelope of offensiveness and discomfort as it explores the very concept of what is offensive and why. And sometimes Louis C.K., who also writes, directs, and edits every episode himself, creates sublime moments of humanity captured under the lens.
The show is also funny, consistently surprising and daring. It defies the conventions of sitcom structures with stories that have the shape of an extended comedy skit by way of a John Cassavetes improvisation. Except that it's funny. Guest stars in Season Two include Ricky Gervais and Joan Rivers.
13 episodes on two discs on Blu-ray and DVD, with commentary by Louis C.K. on select episodes and a featurette on the "Season Two" premiere. 
For more releases, see Hot Tips and Top Picks: DVDs, Blu-rays and streaming video for June 19