FEATURED POST
Plus "Kites," "Leaving," the documentaries "Two in the Wave" and "Last Train Home" and more…
For reasons beyond my understanding, the last full week of the month is a cornucopia of specialty releases, including foreign language films. This month is no different, and in addition to this week's releases, I've also caught up with a few late-arriving imports here. Pull out your home video passport and lets travel.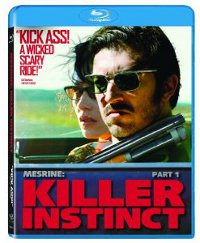 "Mesrine: Killer Instinct" (Music Box)
Vincent Cassel is Jacques Mesrine in the first part of the violent "Mesrine Saga," which chronicles the storied life of France's most notorious gangster. And this is indeed a gangster movie, a period thriller set in the sixties and seventies (the era of Mesrine's criminal blaze of inglory) but reminiscent of the classic gangster era, where returning soldiers falling through the cracks of the American dream picked up a gun and took their piece of the pie. The Mesrine of Jean-François Richet's film was turned into a killer from his service in Algiers (where he was ordered to torture and execute prisoners) and returns restless and furious, but it's not just anger that fuels his criminal life. He feeds on the adrenaline of the criminal life, turning himself into a rock star of a outlaw as he robs banks, kidnaps a millionaire, breaks out of prison, breaks back in and leaves a trail of bodies in his wake, from France to Canada and the United States and back.
It's choppy and abrupt in places, sometimes to great effect, sometimes not so much, and is less about the man than his daring exploits, but Cassel is never less than commanding as the daring and increasingly arrogant adrenaline junkie of a criminal who fancies himself a revolutionary. Think of it as classy crime exploitation, coasting on the notorious details of his career and the sneering charm of Cassell and his partners in crime, including Gérard Depardieu as his first boss, Roy Dupuis as a Quebecois terrorist and Cécile de France as the Bonnie to his Clyde. Arrives on DVD and Blu-ray in French with English subtitles and an alternate English dub track. The conclusion, "Mesrine: Public Enemy #1," is due on DVD and Blu-ray from Music Box on March 29.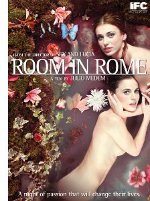 "Room in Rome" (IFC) - Julio Medem's erotic tale of love and identity is a miniature set over one night in an fabulously beautiful hotel room, where two lovely tourists—Russian Natasha (Natasha Yarovenko) and Spanish Alba (Elena Anaya)—spend their final night in Rome together. "All I ask is that this doesn't affect my life," begs the self-described straight girl Natasha as she invites Alba to undress and seduce her, but how can it not? In Julio Medem's world, every action has consequences. The camera never leaves the room, which is a veritable art museum of classical themes and historic symbolism, and it a keeps picking out evocative details (some more obvious than others). But if the camera never leaves, the film does via a laptop computer and internet link, which sends the women soaring over the globe and zooming in on satellite photos to find their respective homes, preserved in both space and time as a world and a life far away yet so close. It's a slim story of physical attraction and emotional guardedness but a visual feast, both of the beautiful women naked at rest and play and of the impossibly gorgeous luxury hotel room where an entire life plays out in a night. Spanish with English subtitles. No supplements but for a trailer.
"The Temptation of St. Tony" (Olive) – An allegory of good, evil and passivity in the new capitalist world of post-Soviet Estonia, Veiko Ounpuu's perverse 2009 film is what you would classify as Eastern European art cinema: allegorical, nightmarish, darkly satirical and surreal. Tony (Taavi Eelmaa) is a well-heeled middle manager in a culture of grim absurdities, a passive sell-out trying to find meaning in a world where big business is nonsensical and ruthlessly inhuman and the social decadence of the rich tumbles into surreal dimensions where capitalism becomes cannibalism in its most literal form. A handsome B&W film of long takes, creeping camerawork and eerie imagery (some of it obvious, some of it unsettling), it's like a contemporary take on the satirical vein explored in the Soviet films of Roman Polanski, Jiri Menzel and Milos Forman, more symbolic than literal and filled with dark humor and disturbing dimensions. French actor Denis Lavant has a small role as the master of ceremonies in the sick nightclub of the corrupted soul.  In Estonian (with some Russian, English and French language sequences) with English subtitles. No supplements.