FEATURED POST
Plus debuts of rarities "Adua e le compagne" and Catherine Breillat's "Night After Night"
Peter Fonda is "Fighting Mad" as Jonathan Demme's eco-warrior in the "Action Packed Double Feature: Fighting Mad/Moving Violation" (Shout! Factory), reviewed on Videodrone here, and I revisit two early Dario Argento films, "The Cat O'Nine Tales" and "Deep Red," as they debut on Blu-ray and new DVD editions (reviewed on Videoddrone here). Meanwhile, here's an interesting offshoot from the Stanley Kubrick Blu-ray releases…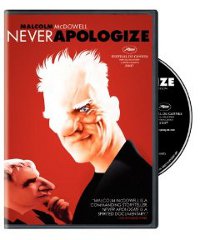 "Never Apologize" (Warner) is not a documentary, it's a theater piece: Malcolm McDowell's remembrance of director (and his longtime friend) Lindsay Anderson, who launched McDowell's screen career by casting him in as the rebellious hero of "If…" The full title of the one-man-show, a mix of readings from Anderson's papers, personal reminiscence and re-enactments of memorable moments, is "Never Apologize: A Personal Visit with Lindsay Anderson [And Their Celebrated Colleagues]," and along with his affectionate impression of Anderson is a collection of delicious impressions of "their celebrated colleagues," among them Alan Bates, Richard Harris and John Ford. (The title, by the way, is a quote that Anderson appropriated from Ford's "Rio Grande.")
It's a touching portrait of a great artist and a private man and McDowell brings an intimacy to the often hilarious stories, but McDowell is a raconteur rather than a biographer and this is a celebration of Anderson's life, his tribute to a mentor, a collaborator and a friend. The production is a collection of bits and pieces from a private life, but together they offer some insight to a man who let few people past his public persona, delivered without sentiment, only affection and respect. Originally performed at the 2004 Edinburgh Festival as a tribute to the director, documentarian Mike Kaplan recorded a 2007 performance and, with the blessing of McDowell, supplements the performance with illustrative stills and film clips for this production. The production was shot on video and the visual quality of the disc is decidedly low-fidelity, but that's not much of an issue in a production where imagery is secondary to performance. No supplements.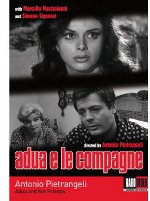 "Adua e le compagne" ("Adua and her Friends") (RaroVideo), also known as "Love a la Carte," is a 1960 Italian rarity making its American home video debut. Directed by Antonio Pietrangeli, it stars Simone Signoret, Sandra Milo, Emmanuelle Riva and Gina Rovere as prostitutes who band together to open a restaurant after new legislation makes their profession illegal and Marcello Mastroianni as a shady character who gets involved with their business. Features an introduction by Italian film historian Maurizio Poro and an episode from the 1954 anthology film "Amori de Mezzo Secolo" directed by Pietrangeli, plus a booklet with an essay on the film. In Italian with English subtitles.
"Night After Night" ("Tapage nocturne") (Pathfinder), the second feature from the happily controversial Catherine Breillat ("Sex is Comedy," "The Last Mistress"), makes its American debut from Pathfinder. Paul Morrisey favorite Joe Dallesandro co-stars in the drama of a sexually aggressive film director (Dominique Laffin) who meets her match in another filmmaker (Bertrand Bonvoisin) and they being an affair, recreating their "first night" in each meeting. French with English subtitles, no suppelements.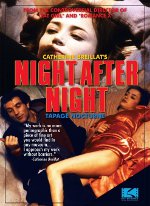 "A Musicares Tribute to Neil Young" (Shout! Factory) is a live concert featuring the likes of Ben Harper, Norah Jones, Elvis Costello, John Fogerty, Dave Matthews, Lady Antebellum, Crosby, Stills & Nash, Wilco, Keith Urban, Josh Groban and others covering the songs of Neil Young. 17 performances all. Proceeds from the sales of the DVD and Blu-ray go to MusiCares, a non-profit that serves people in need in the music community.
"Corporate Cutthroat Massacre" (MVD) is a white collar horror film from Creep Creeperin, an ultra-indie filmmaker who puts his intentions right in his name.