FEATURED POST
Plus early Pola Negri and bargain sets with Oscar-winning actresses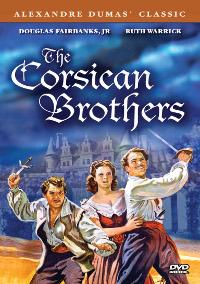 "The Corsican Brothers" (Hen's Tooth), the lively 1941 swashbuckler, stars Douglas Fairbanks Jr. in the dual roles of Lucien and Mario Franchi, twin brothers who were conjoined at birth and separated and raised apart to escape detection by the man who murdered their parents and stole their legacy. The first sound film adaptation of the Alexander Dumas novel, handsomely directed by Gregory Ratoff and described as a "free adaptation of the novel" in the credits, is very much a spirited swashbuckler and dark romance, with Fairbanks playing the gypsy-raised Lucien as a devil-may-care bandit prince and the society-raised Mario as a gentleman rogue with a gift for swards and romance. The twist, of course, is that while separated physically, they are connected by a bond where one feels the pain and emotions of the other, which complicates the otherwise fraternal family reunion when gypsy Lucien falls in love with Mario's society sweetheart (Ruth Warrick of "Citizen Kane" fame) and his brotherly love turns sour with jealousy.
Fairbanks' athletic energy and flamboyant performance enlivens the film and excellent photographic effects create a seamless look to the scenes where the brothers interact and Akim Tamiroff is in fine roguish form as the crude Baron Colonna, the villain of the story. This is the third Hen's Tooth release of Edward Small's indie-produced literary classics and the quality is improving. Though not restored, it's a fine looking disc. DVD only, no supplements.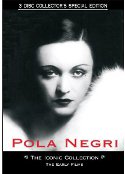 "Pola Negri: The Iconic Collection - The Early Films" (Bright Shining City) collects four European features with Pola Negri, an exotic Polish beauty of lavish romantic dramas in the German film industry who became glamorous star when she became the first European superstar imported by Hollywood in the silent era. This three-disc set features four German films that established her career, released by Bright Shining City as a companion to the 2006 documentary "Pola Negri: Life is a Dream in Cinema" (Bright Shining City), a dutiful and informative but otherwise unimpressive documentary that is also newly available.
"The Polish Dancer" (1917), her earliest surviving feature, is a silly melodrama from her Polish career with Negri as a headstrong girl who becomes a celebrated nightclub performer with a reckless love life. In "The Yellow Ticket" (1918), one of Negri's first German features, she plays a Jewish woman who hides her identity to study medicine in the culture of prejudice. "The Eyes of Mummy Ma" (1918), her first of many collaborations with the great Ernst Lubitsch, is the highlight of the disc, an exotic tale of an Egyptian girl rescued from an ancient crypt and pursued by her captor (Emil Jannings) as she makes her name in European society. The 1921 film "Sappho," directed by Dimitri Buchowetzki (who followed Negri to Hollywood), completes the set. The film quality is merely acceptable and full of damaged footage and the low-fidelity video mastering is indifferent and inferior to the standards set by companies like Kino, Criterion, and even the Warner Archive. All four films are mastered for DVD by Bright Shining Productions, who replace the original German titles with generic, blandly-translated video English titles. Supplements are limited to stills, actress bio, and a trailer for the documentary. Both releases came out earlier this year (I only just discovered and viewed them) on DVD only.
See a trailer below, after the jump.
Three bargain-priced sets offer a mixed selection of films from three Oscar-winning actresses.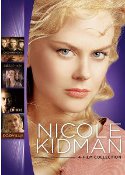 "Nicole Kidman 4-Film Collection" (Lionsgate) features the marvelous ghost story "The Others," Lars von Trier's arty "Dogville," the Oscar-nominated "Cold Mountain," and "Rabbit Hole," for which she earned her third Oscar nomination. By any measure, this is a solid collection of movies and an excellent showcase for the actress.
"Gwyneth Patrow 4-Film Collection" (Lionsgate) has "Shakespeare in Love," for which she won an Oscar, and "Emma," a frothy take on the Jane Austen classic, plus "Bounce" (with Ben Affleck) and "View From the Top" (the stewardess comedy with Christina Applegate).
"Renée Zellweger 4-Film Collection" (Lionsgate) features the "Cold Mountain" (again with this movie!), for which she earned her Oscar, and two films that earned her Oscar nominations: the romantic comedy "Bridget Jones' Diary" and the not-particularly-gri​tty musical "Chicago," and is filled out with "New In Town."
All of these four-disc sets are on DVD only.
For more releases, see Hot Tips and Top Picks: DVDs, Blu-rays and streaming video for April 3