FEATURED POST
MSN has an exclusive deleted scene from the DVD and Blu-ray release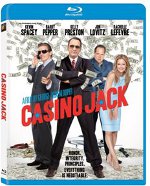 "Casino Jack" (Fox)
No one delivers smug contempt and sneering derision like Kevin Spacey and he has plenty to go around in this entertaining satire based on the real-life Washington super-lobbyist whose life of excess and corruption and epic levels of fraud led to one of the most high-profile trials in recent history .
Abramoff's story was the subject of Alex Gibney's acclaimed documentary "Casino Jack and the United States of Money" and director George Hickenlooper partially borrowed that title (earned by Abramoff for his work promoting the Indian gaming industry) for this flamboyant satire of political capital and high-level deal-making in the era of capitalism gone mad. Barry Pepper, Kelly Preston and Jon Lovitz co-star.
"Turbo-charging the narrative -- aping the style but not the art of "Goodfellas" -- Hickenlooper gleefully exposes the comic/lethal symbiosis between venal lobbyists and legislators in our nation's capital," writes MSN critic Kat Murphy. "But genuine funny isn't often forthcoming in this socio-political immorality play, mostly because the political caricature doesn't come near the bite and snap of a top-notch "Doonesbury" strip."
Both the DVD and Blu-ray release features "Casino Jack – A Director's Photo Diary," deleted scenes and a gag reel. MSN has an exclusive deleted scene.