FEATURED POST
Plus 'Beavis and Butthead' return, a 'Doctor Who' Christmas story and more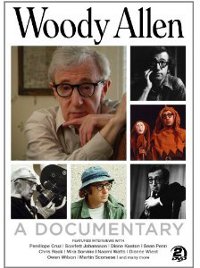 "Woody Allen: A Documentary" (Docurama) – Documentary director Robert Wiede was given unprecedented access to the notoriously press shy Woody Allen, including new interviews with the filmmaker, for this exhaustive portrait of the life, career and art of Allen. In addition to generous clips from his movies and archival interviews and other clips with Allen (including his early stand-up act and talk show appearances), there are interviews with his sister and producer Letty Aronson, first wife Louise Lasser, former collaborators (Marshall Brickman, Gordon Willis, Doug McGrath) and stars past (Diane Keaton, Tony Roberts, Martin Landau, Sean Penn) and present. At over three hours long, it's as complete and intimate a portrait as we're likely to ever get for an artist with such a rich career. Originally made for the PBS showcase "American Masters." DVD only, with 11 minutes of deleted scene, the playful "12 Questions With Woody Allen," and a brief promotional interview with director Robert Weide among the supplements.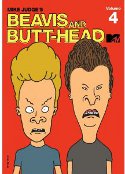 "Beavis and Butthead: Volume Four" (Paramount) picks up with the most absurdly clueless pair of happy morons on TV after fourteen years off the air as if nothing has happened. Even the screen is still square, as if widescreen never happened. The only difference between these new episodes and the old is the MTV programming. Now they sit around and make fun of "Jersey Shore," "Teen Mom" and the rest of the reality shows. 12 episodes on two discs on Blu-ray and DVD, plus the 2011 Comic Con Panel and other supplements.
"Doctor Who: The Doctor, The Widow and the Wardrobe" (BBC), the 2011 "Doctor Who" Christmas special, sends the Doctor (Matt Smith) to World War II Britain to save Christmas for a newly-widowed mother (Claire Skinner) trying to keep the news of their father's death secret until after the holidays. The trip to a Christmas Tree planet does not go as planned, of course, what with acid rains, giant robot loggers and a kind of Druidic tree king who lures them to his wooden castle (which creates all sorts of knotty problems for the Doctor's screwdriver). Features "Best of" three featurettes with series highlights and a "prequel" (which is no more than the 90 seconds from the end of the previous episode). Blu-ray and DVD.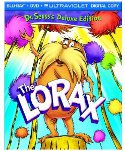 "The Lorax: Dr. Seuss's Deluxe Edition" (Warner) presents the original made-for-TV animated special in advance of the new feature film version of Dr. Seuss' environmentally-awar​e storybook. Blu-ray and DVD, both with featurette "The Lorax: The Trees! The Trees! The Voice of the Trees" and the bonus animated Dr. Seuess programs "Pontoffel Pock and his Magic Piano" and "Butter Battle Book." The Blu-ray also features a bonus DVD and Ultraviolet digital copy, for download and instant streaming.
"Wainy Days: Seasons 1-4" (Vivendi) is not a TV series but an original web production from David Wain and friends, a series of short comic pieces that follow his search for love with a series a guest stars, including Elizabeth Banks, Lake Bell, Julie Bowen, Rashida Jones, Megan Mullally, Amanda Peet and Elizabeth Reaser. Features outtakes, bonus  shorts and the music video "David Wain is Sexy" by Garfunkel and Oates, which is included below, after the jump. DVD only, and it all fits on one disc.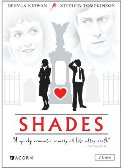 BritTV:
"Shades" (Acorn) reunites Dervla Kirwan and Stephen Tompkinson two just a couple of years after they left "Ballykissangel" for a romantic drama with a twist: both of them have just died and are now spirits trying to set right the lives they left behind. The six-part series premiered in 2000 in Britain and subsequently played on PBS. DVD only, two discs.
"Far From the Madding Crowd" (PBS), the 1998 British miniseries adaptation of Thomas Hardy's novel, stars Paloma Baeza, Nathaniel Parker and Nigel Terry. It was originally shown in the U.S. on "Masterpiece Theatre." DVD only.
"Battlefield Detectives" (Athena) examines nine key battles in wars across history, from the Battle of Hastings to the War in Vietnam, in nine hour-long episodes. This 2003 British documentary series was originally seen in the U.S. on the History Channel. Three discs in a box set of three thinpak cases, plus a booklet, on DVD only.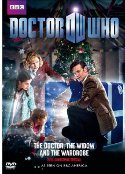 "Suspicion" (Horizon/Kino), the 1987 British TV remake of the Hitchcock classic, stars Anthony Andrews and Jane Curtin.
More classic "Who" rolling out from BBC Video: William Hartnell is The Doctor in "Doctor Who: The Sensorites" (story no. 7 in the show's chronology) and Peter Davison is The Doctor in "Doctor Who: The Caves of Androzani" (story no. 136). Both releases feature commentary, featurettes and other supplements.
Another season:
Urkel alert! "Family Matters: Season Two" (Warner) features 25 more episodes of the family sitcom on three discs. DVD only.
"Storage Wars: Volume Two" (A&E) features 14 episodes of one of the top reality shows on the A&E network on two discs. DVD only.
Plus: "American Experience: Billy the Kid" (PBS) is an hour-long documentary that tries to sort out myth from history and "The Tragedy of Bataan" (PBS) is a 30-miute documentary short about the battle, the retreat, and the "death march" that killed many of the American survivors.
For more releases, see Hot Tips and Top Picks: DVDs, Blu-rays and streaming video for February 14