FEATURED POST
20th Century Fox begins its own manufacture on demand program with mixed results in the first wave
By 
SeanAx
 Jul 29, 2012 10:26AM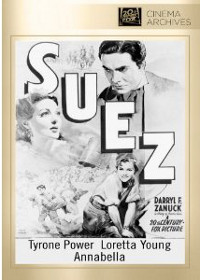 20th Century Fox is finally following the leads of Warner, Sony, and MGM with their own  manufacture-on-deman​d program aimed at releasing some of the older titles from the vaults.
The first wave of releases -- 35 titles in all -- is now available and the results are… mixed, to say the least. 
"Suez" (1938), directed by Allan Dwan and starring Tyrone Power, is one of the better of the big, "respectable" historical dramas that Power made in the thirties and early forties, this one about the construction of the Suez Canal in the face of challenges both physical (Dwan delivers a spectacular sandstorm sequence) and political (Napoleon III's coup, which is as much a personal betrayal as a national one in this story). This is the best looking disc of the initial batch I received, a fine mastering of a clean, strong print, with good contrasts and sound and no apparent digital artifacts: a solid presentation of a handsome Hollywood classic. This is the standard that the label should be maintaining.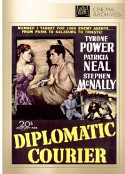 Tyrone Power also stars in "Diplomatic Courier" (1952), but here he's older and more mortal playing as state department courier tossed into the Cold War culture of Europe in the fifties. The sensibility is somewhere between post-war noir and pre-John Le Carre, with Power tossed into the middle of a scramble for secret documents and Karl Malden as the scrappy American MP playing two-fisted protector. Patricia Neal all but steals the film as a lively, witty American widow who keeps crossing paths with our hero, and Lee Marvin shows his promise in a small role. This transfer is rather noisy, with an overly pixilated look on many of the gray areas of the image, and periodic pools of pale color arising from some of the busier areas of the screen. The effect, which was in a lot of early Blu-ray editions of black-and-white movies, is like a sandstorm whipping across the faces of the characters. Other labels have put this issue to rest. Fox should look to them for a solution.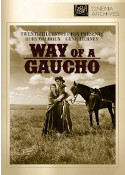 "Way of a Gaucho" (1952), a South American western set on the pampa, stars Rory Calhoun as the "gaucho's gaucho" in 19th century Argentina who declares war on encroaching civilization and technology while Gene Tierney falls for his romantic rebellion. Calhoun is a poor excuse for a firebrand revolutionary and Richard Boone, playing the military Captain sent to hunt him down, is so much more compelling you wish the film was about him instead. Jacques Tourneur directs on location and makes good use of the landscape, but he can't compensate for the cliché-ridden script or Calhoun's lack of screen charisma. This is the only color film I viewed and it looks incorrect to me. The hues are muted and soft, more like old two-strip Technicolor than the strong, bold, sharp Technicolor of the forties and fifties. Mostly the transfer has fine (though hardly stand-out) clarity, but many shots have a slight but noticeable blur, as if the lens was dotted with random smears. I can't say with any authority that this is a transfer issue rather than a print problem, but the way it comes and goes suggests an inattentive digital transfer.
(More detailed reviews of the films are at Parallax View)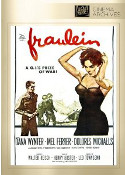 A film I did not receive, but has been reviewed elsewhere (including by Lou Lumenick at the New York Post), is "Fraulein" (1958), a CinemaScope picture that Fox has released in an unforgiveable pan-&-scan print, cropping the 2.35:1 widescreen image to 1.33:1 (the dimensions of a standard, pre-widescreen TV set) and losing more than a third of the picture in the process. Surely this was dubbed from an old TV master: "the best available master source was 4:3 pan & scan 1.33, and not the original aspect ratio," explained a Fox rep to Lumenick. If that is true, then why release it in the first wave rather than another, properly formatted widescreen film?
Now a reality check here. There are problems here that need to be addressed but this is only a first effort. The initial discs from Warner Archive and MGM Limited Edition Collection faced their own issues before the companies found their footing and established their own quality control standards.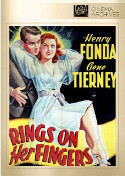 So Fox has room to improve. It's up to them to acknowledge the shortcomings, take the criticisms to heart, and rise to the standards that have been established by those who came before in the MOD market. There's every reason to give them a chance to do so.
More from Lou Lumenick at New York Post on the first wave of 20th Century Fox Cinema Archives, and announcements of the second wave of upcoming releases.
Available by order only from 20th Century Fox Cinema Archives, from Amazon, Oldies.com and other web retailers.
Here's a complete list of the first wave titles currently available, copied from the press release. Just click on "More" below.
For more releases, see Hot Tips and Top Picks: DVDs, Blu-rays and streaming video for the week of July 24