FEATURED POST
Who knew Jeremy Sisto was this funny?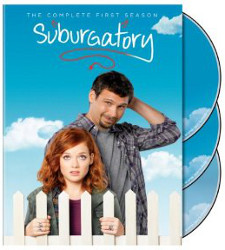 "Suburgatory: The Complete First Season" (Warner) manages to be a pretty entertaining meeting of classic sitcom tropes (cool unconventional family, crazy neighbors, exaggerated cultural spoof) with the knowing, self-aware humor of more contemporary takes on the form.
Jeremy Sisto plays George Altman, a single dad who flees Manhattan to the suburbs in a panic when he finds condoms in his daughter's room. Jane Levy is the smart, sardonic teenager Tessa, a high school girl with urban attitude and a smart remark for every situation. And there are plenty of appropriate situations in this land where appearances are always more important than substance, especially in a high school
The first season works through the usual dramas: Tessa tries to find her place in a new high school where she can't relate to anyone, George becomes the most eligible bachelor in a neighborhood of high-strung, affluent, very aggressive housewives, and the two fun-loving urbanites try to bring their sense of style and whimsy to a culture where everyone is in lockstep conformity and no one dares question it.
The affectionate satire doesn't have much of an edge but it (Carly Chaikin's Dalia is a clueless Paris Hilton clone) does have a great cast hitting all its marks. Cheryl Hines brings the screen to life in every scene as neighbor Dallas Royce, the frustrated wife of a controlling, philandering husband who reveals a big heart and a desire to rebel that she doesn't quite realize is there, and Alan Tudyk embraces the contradictions inherent in Noah, George's old high school buddy turned happy suburban breadwinner. He appears to have swallowed the Kool-aid but his anxiety over the empty values of his social life come out in over-excited babbling and jittery responses to uncomfortable situations.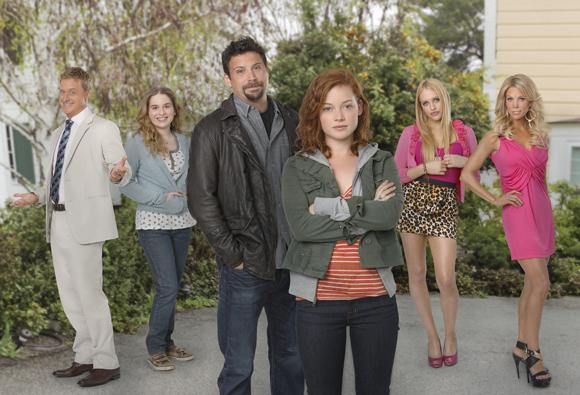 Alicia Silverstone joins the cast in the final episodes as a surrogate mother carrying Noah's child, which strains the friendship when George falls for the bubbly, health-obsessed cutie, and Rex Lee (as the school's flamboyantly closeted gay guidance counselor), Ana Gasteyer (the competitive, controlling neighbor), and Chris Parnell (her submissive husband) co-star.
22 episodes on three discs, plus the 27-minute "Somewhere, Between Heaven and Hell: Life in Suburgatory," which plays like a collection of short promotional featurettes stitched together (lots of interviews, no behind-the-scenes footage), and deleted scenes. DVD only.
For more releases, see Hot Tips and Top Picks: DVDs, Blu-rays and streaming video for week  of September 18