FEATURED POST
Plus the indie romantic comedies 'Ruby Sparks' and 'Safety Not Guaranteed,' foreign film 'Elena' and 'Americano,' and more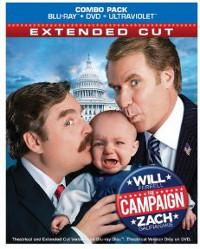 "The Campaign" (Warner) spoofs the election process with Will Ferrell and Zach Galifianakis as rival candidates in a congressional race: Ferrell the scandal-riddled incumbent unused to competition and Galifianakis the prissy naïf with more enthusiasm than intelligence. It's "exceptionally good at being cynically smart about the horrors it's portraying, and gleefully vulgar and absurd about wringing laughs out of those horrors," praises MSN film critic Glenn Kenny. "The movie mixes such outrageously Rabelaisian humor with political insight that it sometimes becomes hard to distinguish the dumb fart joke from the trenchant insight, and that's really part of the point the movie's making."

Jay Roach, who directed the more pointed political satires "Game Change" and "Recount" for HBO, brings the broader style of his "Austin Powers" and "Meet the Parents" films to this one, and Jason Sudeikis, Dylan McDermott, John Lithgow, and Dan Aykroyd co-star.
Blu-ray and DVD, with deleted scenes and an UltraViolet digital copy for download and instant streaming. The Blu-ray also offers an extended cut of the film (it runs 11 minutes longer), plus a "Line-O-Rama" montage of alternate line improvisations and a gag reel. Also available On Demand.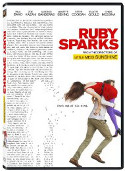 Zoe Kazan is "Ruby Sparks" (Fox), a fictional character brought to life by a young novelist (Paul Dano) as he works through his writer's block by putting to paper his ideal romance. "Directors Jonathan Dayton and Valerie Faris' follow-up to "Little Miss Sunshine," from a script by Kazan, is a great, smart romance about love and love stories, with comedy and insights," recommends MSN film critic James Rocchi. "It's a fractured fairy tale, short on special effects but rich with both emotion and intelligence." Annette Bening, Antonio Banderas, and Elliott Gould co-star.
Blu-ray and DVD, with the featurettes "Behind the Story," "Real-Life Couples: Co-Stars & Directors," and "Be Careful What You Wish For." The Blu-ray offers two addiction short featurettes. Also available On Demand.
"Safety Not Guaranteed" (Sony) is another indie romantic comedy, this one with  Aubrey Plaza as a sardonic newspaper intern in Seattle who follows a classified ad searching for a partner in a time travel trip and finds Mark Duplass at the other end of it. The film won the screenwriting award at Sundance. "Time-traveling becomes a nifty metaphor for the universal desire for second chances," writes MSN film critic Kat Murphy. But she complains that the "characters don't have relationships; they bounce off or stick to each other either in predictable or utterly random ways. Weak writing and clumsy cinematography don't help." Blu-ray and DVD, with two featurettes. Also available On Demand and at Redbox.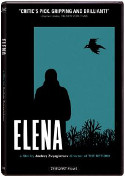 Foreign Affairs:
"Elena" (Zeitgeist) " begins as if it will be the grim portrait of unpleasant people and grows steadily more remorseless," describes Chicago Sun-Times film critic Roger Ebert. "I make it sound like a horrible experience. Not at all. Andrei Zvyagintsev's film isn't stupid or crude, and we can pretty well imagine how all the characters feel, even though it doesn't make them sympathetic." In Russian with English subtitles, with a half-hour interview with director Andrei Zvyagintsev and a featurette on the making of the poster. DVD only.
"Americano" (Kino) sends a young Frenchman (Mathieu Demy, also the director) on a road trip to California to uncover the legacy of his late mother, a journey that takes him to Mexico and stripper named Lola (Salma Hayak). "Though not explicitly autobiographical, this film is deeply personal, and while the nature of cinema is very much on its mind, it rarely feels insular or self-conscious," writes New York Times film critic A.O. Scott. "Instead, it is wistful and nostalgic, and at the same time full of restless curiosity." In English, French, and Spanish with English subtitles. Blu-ray and DVD, with an interview with Mathieu Demy. Also available On Demand.
"Turn Me On, Dammit!" (New Yorker) is a coming-of-age film from Norway that focuses on a 15-year-old girl. "It's awfully refreshing to see a female character dealing with her own desire instead of just being the object of someone else's," writes Movieline film critic Alison Willmore, "and the film, which director Jannicke Systad Jacobsen adapted from a novel by Olaug Nilssen, allows Alma's journey to be funny, embarrassing and poignant without ever seeming leering or exploitative." Norwegian and English with optional English subtitles. DVD only, with an interview with writer/director Jannicke Sistad Jacobsen.
Plus:
"The Ballad of Genesis and Lady Jane" (New Yorker) is documentary portrait of musician and performance artist Genesis Breyer P-Orridge and his personal and professional partnership with Lady Jaye. "This impressionistic approach eschews traditional biography, instead giving the viewer the feeling of being inside a moment, without necessarily providing all the information we might need to contextualize what we're seeing," explains Village Voice film critic Karina Longworth, who describes the film as "a dreamlike portrait of her subjects." DVD only, with new and archival interviews, bonus short films, and a gallery of stills.
"Steve Jobs: The Lost Interview" (Magnolia) is the feature film presentation of a video interview shot in 1995, previously seen only in brief clips. DVD only, with commentary by director/producer Paul Sen and writer/presenter Robert X. Cringely and a bonus interview with Macintosh programmer Andy Hertzfeld. Reviews here.
Plus:
"Cherry." (MVD) is an indie romantic drama about a love triangle in Los Angeles. Reviews here.
Also check out the direct-to-disc horror films for October, including "Werewolf: The Beast Among Us" (Universal) and "Greystone Park" (Arc Entertainment), in the special Halloween edition of B-Sides.
For more releases, see Hot Tips and Top Picks: DVDs, Blu-rays and streaming video for the week of October 30