FEATURED POST
Plus Raquel Welch, Charlton Heston, and Richard Widmark on the run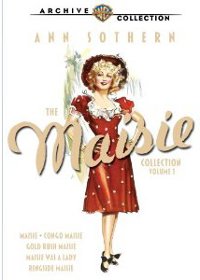 "The Maisie Collection: Volume 1" (Warner Archive) – Ann Sothern played brassy Brooklyn showgirl Mary Anastasia O'Connor, aka Maisie Ravier, in "Maisie" (1939), the comedy of an urban girl stranded in a small Wyoming town where she gets involved in the melodramatic complications of the western soap opera of cheating wives and loyal friends. The film, a modest 72-minute programmer co-starring Robert Young (as the stalwart ranch foreman and love interest), made Sothern a star in the role that would define her screen persona: sassy and sweet and sexy. And it launched a series that ultimately totaled ten films, sending Maisie "traveling to every part of the globe as conceived by the set decorators," in the words of film historians James Robert Parish and Ronald L. Bowers.
The debut release collects the first five of the films on a three disc set. Following "Maisie" are "Congo Maisie" (1940), which strands her in an African village with a visiting doctor (John Carroll); "Gold Rush Maisie" (1940), set in a ghost town outside of Tucson; "Maisie Was a Lady" (1941), where she takes a job as maid to a rich family and helps smooth over their conflicts (co-starring Lew Ayres and Maureen O'Sullivan); and "Ringside Maisie" (1941), where she befriends a young boxer played by George Murphy. Contract director Edwin L. Marin directs most of these films.
See clips from the original "Maisie" and "Ringside Maisie" below, after the jump. Just click on "MORE" below.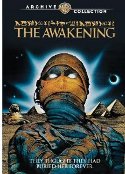 "The Awakening" (Warner Archive), loosely based on Bram Stoker's "The Jewel of Seven Stars" and directed by Mike Newell, stars Charlton Heston as an English archeologist who unleashes supernatural powers after discovering an ancient tomb. New York Times film critic Janet Maslin described it as "a spooky, skilfully made horror film about archeologists who uncover the inscription ''Do Not Approach the Nameless One Lest Your Soul Be Withered'' and still keep on digging," in her 1980 review.
"Flareup" (Warner Archive) stars Raquel Welch as a Las Vegas go-go dancer (she spends much of the film in a white leotard, for obvious reasons) who is targeted for death by her best friend's madly jealous husband. " Miss Welch's figure still can't be overlooked, even though her dialogue problems beg to be ignored," wrote A.H. Weiler in The New York Times in 1969.
As a footnote, the Warner Archive price of most single-disc releases dropped from $19.95 to $17.95 apiece (plus shipping and handling) in the last month or two. And if you keep an eye out for specials, you can usually get them even cheaper.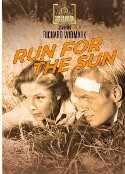 "Run For the Sun" (MGM Limited Edition Collection), a 1956 remake of "The Most Dangerous Game," stars Richard Widmark and Jane Greer as Americans who crash land in the Mexican jungle and are the human prey hunted by a pair of decadent Europeans (Trevor Howard and Peter van Eyck) hiding out in tightly-controlled jungle compound. This version, shot in color and widescreen in Mexico, is " an all-round quality job of production," in the words of DVD Savant Glenn Erickson. It's not as violent or sadistic is previous versions of the story, and "Director Roy Boulting blocks out the movie with effective camera moves and attractive visual compositions."
"War Drums" (MGM Limited Edition Collection), from 1957, stars former big screen "Tarzan" Lex Barker as an Apache Chief and Ben Johnson as a white settler who become friends just as gold miners provoke a war with the Apache nation. Reginald le Borg directs the B-movie with a pro-Indian message.  
"Noose For a Gunman" (MGM Limited Edition Collection) is a 1960 B-movie western starring Jim Davis as a gunslinger who returns to his hometown and stands with the town marshal against a bandit attack. The absurdly prolific Edward L. Cahn directs and Barton MacLane, Ted de Corsia, Leo Gordon, and Harry Carey Jr. co-star.
Available exclusively from Warner Archive: 

"The Maisie Collection: Volume 1"
"Flareup"
Available by order only from the MGM Limited Edition Collection, from Amazon, Screen Archives Entertainment,Critics' Choice Video, Classic Movies Now, Warner Archive, and other web retailers.
"Run For the Sun"
"War Drums"
"Noose For a Gunman"
MOD stands for "Manufacture on Demand" and represents a recent development in the DVD market, where slipping sales have slowed the release of classic, special interest and catalogue releases. These are DVD-R releases, no-frills discs from studio masters, ordered online and "burned" individually with every order. You can read a general introduction to the format and the model on my profile of the Warner Archive Collection on Parallax View here and on the MGM Limited Edition Collection on Videodrone here.