FEATURED POST
Jeff Bridges sidles into the John Wayne role in this new take on the Charles Portis novel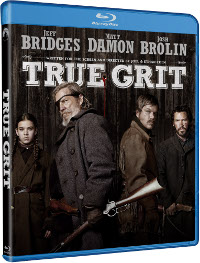 "True Grit" (Paramount) on DVD and Blu-ray Combo Pack (with DVD and Digital Copy)

The Coen Brothers insisted that their "True Grit" was not a remake of the 1969 film that earned John Wayne his Academy Award but a faithful adaptation of the Charles Portis novel. Whether or not it's true that they had not seen the Henry Hathaway film since they were kids, it is interesting to see how close both hew to the story and the dialogue of the Portis novel, and how the difference in the details makes the Coens' film uniquely their vision, and the most accessible and successful (financially speaking) film of their career.
Jeff  Bridges practically croaks his lines as Rooster Cogburn, a veteran manhunter, unapologetic killer and well-practiced drunk, yet for all his leathery character and wry humor of his performance, newcomer Hailee Steinfeld holds her own as the driven young Mattie Ross, a slip of a girl who armors up in the clothes of her dead father and sets out for revenge against the man who murdered him. And next to the lush mountain landscapes and daylight beauty of Hathaway's 1969 film, the Coens offer a tougher, more scraggly frontier, often shrouded in fog and darkness.
You could argue for days which film offers the better character performances—Bridges​ versus Wayne, Josh Brolin's scruffy, dim Tom Chaney versus Jeff Corey's shifty, pathetic incarnation, Barry Pepper's hard, fierce outlaw leader Ned Pepper next to tarnished nobility of Robert Duvall's version—but Steinfeld is the winner as Mattie and earned her Oscar nomination for Supporting Actress (even though she is, if anything, the leading character). And the modesty of Matt Damon's supporting turn as the Texas Ranger LaBoeuf, threading the needle between comic vanity and professional competence so well that you barely notice just how good he is, is so superior to Glenn Campbell's winking bluster that no more need be said.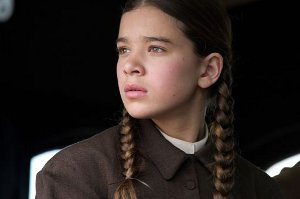 "A genuine, rip-roaring, no-nonsense Western with a thoroughly engaging storyline, incredibly vivid characters, consistently peppery dialogue, nerve-wracking suspense, thrilling action, a functioning brain and a big, and again genuine, heart, it is very good for what ails the contemporary moviegoer who misses all those qualities in current Hollywood fare," proclaims MSN critic Glenn Kenny. "And is huge fun to boot. But the picture is also something more than that, something I myself was not prepared for."
He continues: "This is a visually and sonically beautiful movie (Carter Burwell's score, drawing from themes from American folk music of the ear, is one of his greatest) that uses space, distance and time to immerse you in a very particular world of mystery, awe, and brutality. And in its last quarter, it rockets beyond that into another realm altogether, a realm of cinematic poetry.
True to form, filmmakers Joel and Ethan Coen decline to offer a commentary track and, unusually, are conspicuously absent from any of the featurettes on the DVD or Blu-ray editions. The cast and crew members who do participate, however, quite effectively guide us through various aspects of the production. "Re-Creating Fort Smith," the longest of the featurettes on the DVD edition and the most interesting, shows how the production transformed a modern small town street into the dusty frontier town with a minimum of digital effects and gives us a tour of the real steam engine that brings our young heroine into town. The eight-minute "From Bustles to Buckskin—Dressing for the 1880s" shows us how clothes make the man (and the girl) and "Hailee's True Grit" and "The Cast," a pair of brief conventional interview featurettes, round out the DVD supplements.
The Blu-ray edition comes in a two-disc combo pack featuring a bonus DVD edition and a digital copy, and it features three more featurettes (in HD), including the excellent half-hour documentary "Charles Portis—The Greatest Writer You've Never Heard Of…" This piece reaches beyond the cast and crew to examine the work and influence of the novelist through interviews with publishers, editors, authors and even a songwriter (Dwight Yoakum). The film's property master guides us through the guns used by each character in the brief "Colts, Winchesters & Remingtons: The Guns of a Post-Civil War Western," which packs plenty of information (and armaments history) into just over four minutes. Even shorter is "The Cinematography of True Grit," which can't begin to do justice to the work of the great Roger Deakins in its brief running time of under three minutes. But then the Blu-ray image itself is testament to his work.