FEATURED POST
Plus the 1980 anthology series 'Hammer House of Horror' and more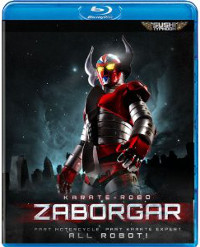 "Karate-Robo Zaborgar" (Well Go) is, in the words of the promotional poster, "Part motorcycle, part karate expert, all robot!" It doesn't lie. This self-conscious, tongue-in-cheek tribute to the robo-heroes of the seventies Japanese movies and TV embraces the gee-whiz innocence of the uncomplicated stories of transforming mechanical creations and the earnest young heroes who operate them.
Directed by Japanese B-movie specialist Noboru Iguchi (of "RoboGeisha" and "Mutant Girls Squad" fame) on a low budget, it features a young cop who inherits a transforming robot warrior built by his father from the DNA of his dead twin brother, a criminal organization of flamboyant and ridiculous henchmen, a robofemme fatale, and a twist of robot love that leaves our human hero abandoned and alone. There's clearly more love and affection than talent and cleverness here, and I can't imagine that anyone not already predisposed to this kind of cult filmmaking would find much of interest here (especially at almost two hours, where the good-natured riffing gets a little repetitive), but for fans of transforming robots and cheap genre exercises, it's a tongue-in-cheek valentine. Go, Zaborgar, go!
Blu-ray and DVD, in Japanese with English subtitles, with a collection of bonus short Zaborgar films.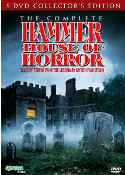 "Hammer House of Horror" (Synapse) features all 13 episodes British TV horror anthology produced by the legendary horror studio in 1980. The studio was long past its gory glory days but this small screen revival features episodes helmed by some of the studio's reliable feature directors (Peter Sasdy and Alan Gibson). Hammer horror icon Peter Cushing stars in the episode "The Silent Scream" with Brian Cox. It was one of the final productions of the once prolific studio before its revival in the 21st century. DVD only, five discs, with the interview featurettes "Grave Recollections: A Visit with Kathryn Leigh Scott" and "Hammer Housekeeping: A Visit with Mia Nadasi," episode introductions by genre  historians Shane M. Dallman, and an animated stills gallery.
"Produced by George Martin" (Eagle Vision) profiles the life and career of the legendary record producer who became legendary for producing the music of The Beatles. But before The Beatles, he produced classical music, children's records, novelty songs, and comedy albums, and later he continued working in pop and rock music (Gerry and the Pacemakers, America, Jeff Beck, Cheap Trick, Paul McCartney's duets with Stevie Wonder and Michael Jackson) as well as his own projects. In addition to interviews and reunions with many of the artists he worked with (including Paul McCartney, Ringo Starr, Jeff Beck, Cilla Black, and novelty artists Rolf Harris and Bernard Cribbins), Michael Palin talks with Martin about the Martin-produced comedy records that inspired the Pythons. Originally made as an episode of the BBC arts series "Arena," it's expanded by almost an hour for Blu-ray and DVD.  Also features bonus interviews.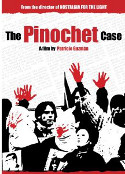 "The Pinochet Case" (Icarus), the 2001 documentary by Chilean director Patricio Guzman, follows up his epic "The Battle of Chile" to catch up with the arrest of Augusto Pinochet in 1998 on charges of human rights abuse and the complicated process to bring him to international justice. DVD only. Reviews here.
Back to pure exploitation, here are two more Roman Porno (Japanese exploitation erotica) production from Japan's Nikkatsu Studios. You don't need much more than the titles to know what "Nympho Diver: G-String Festival" (Impulse) and "Female Teacher: Dirty Afternoon" (Impulse) are about. Both are from 1981 and arrive on DVD in Japanese with English subtitles, with original trailers and liner notes from Japanese film scholar Jasper Sharp.
And from Italy in the eighties comes "The Dark Side of Love" (One7Movies), an erotic drama from Salvatore Samperi. Italian with English subtitles, DVD only.
The MOD Movies round-up looks at the James Bond riff "The Liquidator" (Warner Archive) with Rod Taylor and the Gary Cooper western "The Hanging Tree" (Warner Archive), among others.
For more releases, see Hot Tips and Top Picks: DVDs, Blu-rays and streaming video for week of September 11