FEATURED POST
Plus more 'Wallander,' the end of 'Desperate Housewives,' Ted Danson on 'CSI,' and more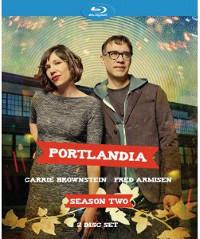 "American Horror Story" (Fox) is a rarity: an interesting, creepy, at times gruesome horror story told over the course of a cable TV season. It arrives days after Jessica Lange won an Emmy for her performance, and three weeks before the next incarnation launches on FX: "American Horror Story: Asylum." Videodrone's review is here.
"Portlandia: Season Two" (MVD) features all ten episodes from the sophomore season of the offbeat skit comedy from Carrie Brownstein and Fred Armisen and a great line-up of guest stars: Jeff Goldberg, Kristen Wiig, Tim Robbins, an animated tattoo of Eddie Vedder, and Edward James Olmos and Jamie Callas at a table read of a fake "Battlestar Galactica" script. The season finale draws the show's regular characters (including a return visit from Kyle Maclachlan as The Mayor) into an epic called "Brunch Village." IFC's breakout comedy hit arrives in environmentally responsible paperboard cases. Two discs on Blu-ray and DVD, with a director's cut of the finale, commentary on four episodes, featurettes, and other supplements.
Also arriving on disc this week is "Key & Peele: Season 1" (Paramount), another half-hour skit comedy, this one made for FX by writers / stars Keegan Michael Key and Jordan Peele. Blu-ray and DVD, eight episodes plus commentary, bonus footage, and a featurette.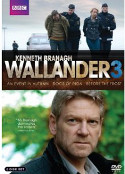 BritTV:
"Wallander: Series 3" (BBC) presents three more feature-length BBC mysteries starring Kenneth Branagh as Swedish police detective Kurt Wallander, the most depressed detective on television. You might say he lightens up a little this season, but that's only because he's no longer suicidally depressed, merely perpetually gloomy and grim, unable to shake the shadows of the job when he's home. And there are so many shadows cast on his life. In "An Event in Autumn" alone, he uncovers the murders of three murdered girls and watches a partner get fatally assaulted, which shuts him off so completely that he literally flees from all romantic possibilities from the otherwise most patient woman in the world (Saskia Reeves). Therapy isn't going to solve this one. The two-disc set also features "The Dogs of Riga," which takes him to Latvia (where things haven't apparently changed much since the fall of Communism), and "Before the Frost," where he searches for a friend of his daughter who goes missing. All three adapted from the novels of Henning Mankell and shot on location in Sweden. DVD only.
The BBC mini-series "The Crimson Petal and the White" (Acorn), based on the novel by Michel Faber, stars Romola Garai as a prostitute trying to get out the brothel life in Victorian London and Chris O'Dowd as her best bet out. Gillian Anderson and Richard E. Grant co-star in the drama of the Victorian underworld of vice and sex and power. The four-part series showed in the U.S. on encore. Two discs, DVD only, with interviews and deleted scenes.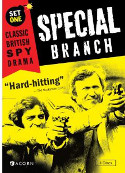 "Special Branch: Set One" (Acorn) is the 1973 British cop series starring George Sewell as a veteran DCI in a special unit that focuses on terrorism and espionage and Patrick Mower as his brash new partner who transfers in from the street. 13 episodes on four discs, plus an interview with the stars. DVD only.
"Criminal Justice: Complete Set" (BFS) collects the two British mini-series that follow the accused through the British justice system (both previously released in separate volumes). The first stars Ben Whishaw and Pete Postlethwaite, the second Maxine Peake and Matthew Macfadyen. DVD only.
"New Tricks: Season Eight" (Acorn), the British "Cold Case File" squad of aging cops (Dennis Waterman, Alun Armstrong, and James Bolam) and old-school attitude, offers ten episodes on three discs. DVD only.
More classic "Doctor Who" from BBC: William Hartnell is The Doctor in "Doctor Who: Planet of Giants" (story no. 9 in the show's chronology) and Colin Baker is The Doctor in "Doctor Who: Vengeance on Caros" (story no. 139). Both volumes include commentary, featurettes and other goodies. DVD only.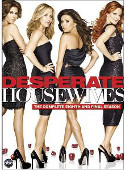 Another season:
"Desperate Housewives: The Complete Eighth and Final Season" (ABC) brings the long-running coffee klatch of lust, adultery, and murder in the suburban hotbed of Wisteria Lane to a close. Teri Hatcher, Marcia Cross, Eva Longoria, and Felicity Huffman see it through to the end. 23 episodes on five discs, with commentary on the finale, a featurette, and deleted scenes.
Ted Danson takes the lead from Laurence Fishburne in "CSI: The Twelfth Season" (Paramount) and if he doesn't rejuvenate the show (and he doesn't), he at least brings  a welcome shift in character: he has a home life and a family and wants to keep it that way despite the pressures of the job. Marge Helgenbarger departs halfway through the season (after putting in eleven full seasons!) and Elisabeth Shue take up residence as the team blood-spatter specialist. Sort of like Dexter, except she doesn't like anyone in her off hours. The final episodes leave the show on a cliffhanger and a new threat: the mob declares war on the police and the CSI squad. 22 episodes on six discs, plus commentary on two episodes and six featurettes. DVD only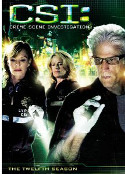 The latest seasons of the sibling shows are also out this week. "CSI: Miami – The Final Season" (Paramount), with David Caruso and Emily Procter, brings the sunny Florida spin-off to a close after ten seasons (!). 19 episodes on five discs, plus commentary and featurettes. "CSI:NY – The Eighth Season" (Paramount), with Gary Sinise and Sela Ward (in her second season with the crew), soldiers on however, arriving days before the ninth season launches. 18 episodes on five discs, with featurettes. Both DVD only
"Gossip Girl: The Complete Fifth Season" (Warner) straddles the coasts with Serena (Leighton Meester) in her dream job in Los Angeles and Blair (Blake Lively) trying to choose between a prince and scion of New York wealth. Gosh, it's tough to be rich, trendy and beautiful in the culture of the young and privileged of New York City. 24 episodes on five discs, with featurettes. DVD only.
"Touched By an Angel: The Sixth Season" (Paramount), starring Roma Downey as the good-hearted apprentice angel caseworker sent to earth to help humans in crisis, continues the family-friendly drama. 26 episodes on seven discs, DVD only.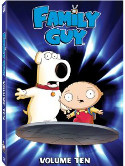 Animation:
"Family Guy: Volume Ten" (Fox) features 14 episodes from season nine of Seth MacFarlane's animated sitcom about a suburban working class family tackling the crises of the modern age (work, raising teenage kids, drinking beer and watching TV). Three discs, with commentary, featurettes, and deleted scenes. DVD only.
"Iron Man: Armored Adventures – Season 2, Volume 2" (Vivendi) features six episodes. 
"Cat Dog: Season 2 Part 2" (Shout! Factory) features ten episodes of the animated series from Nickelodeon. Both DVD only.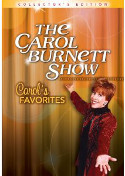 Plus:
- "The Carol Burnett Show: Carol's Favorites" (Time Life) presents the wide release of the six-disc set (previously available as a web exclusive) featuring 16 complete, uncut episodes of the landmark variety show and three hours of supplements, including bonus skits, featurettes, and interviews.
- Jonathan Demme directs "I'm Carolyn Parker: The Good, the Mad, and the Beautiful" (PBS), a portrait of a resilient New Orleans resident who endured Katrina and fought for the right to return home. DVD only.
- "The Day Carl Sandburg Died" (PBS) is a feature-length documentary on the American author and poet.
- "Another Life" (BFS) is a new release of the 2000 British drama of manners and murder starring Natasha Little, Nick Moran, and Ioan Gruffudd. DVD only.
For more releases, see Hot Tips and Top Picks: DVDs, Blu-rays and streaming video for the week of September 25