FEATURED POST
The History Channel mini-series is both interesting history and compelling drama
By 
SeanAx
 Jul 31, 2012 10:04AM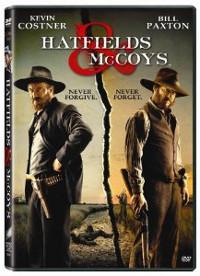 The Hatfields and the McCoys turned the most famous family feud in American history into a personal war right out of a Shakespeare tragedy. The names themselves have become an instant cliché understood by everyone, even while the actual history behind it was forgotten in all the satirical appropriations of the story for movies and TV comedies.
"Hatfields & McCoys" (Sony), the most watched program ever on The History Channel, is a fine attempt to create engaging drama while remaining true to the history. Handsome and well-produced (with Romania quite effectively standing in for the wilds of Kentucky and West Virginia), and anchored by a superb cast led by Kevin Costner as "Devil Anse" Hatfield and Bill Paxton as Randall McCoy, it steers clear of the clichés and the distortions to dig into the complicated history of the infamous blood feud.
The roots go back to the Civil War -- Anse and Randall fought side by side for the Confederacy but other members of the McCoy clan fought for the North -- and the grievances in the post-war years that escalated into violent clashes and legal confrontations. These aren't the backwards hillbillies of so many comic incarnations but rural folk with strong clan allegiances who tangle the law and the state governments into their fight, each maneuvering to get the stamp of legal approval on their campaign. And yes, there is a "Romeo and Juliet"-styled romance between a Hatfield son and a McCoy daughter, another real-life strand in the story, but even that is just another complication that stirs up indignation.
There's no one flashpoint here, just a cascade of grudges and conflicts that reingnite the lingering bitterness over the war into a private conflict fueled by anger, vengeance, and some distorted form of honor, fought (appropriately enough) over state lines: another civil war. As Judge 'Wall' Hatfield (Powers Booth) warns brother Anse, "These picayune squabbles have a way of turning dangerous."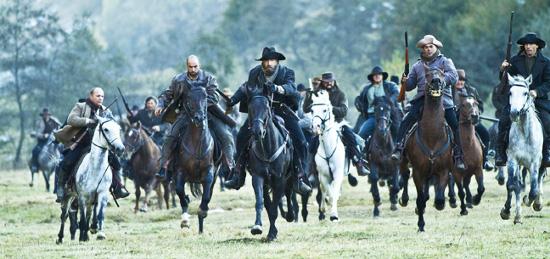 The series spans over twenty years of fighting and focuses on how the violence poisons everyone, victims and survivors alike, so caught up in the hate that they don't care about the cost, which culminates in "The Battle of Grapevine" in 1888, a disastrous, disorganized shoot-out as petty backwoods gang fight. There's nothing romantic or honorable in this self-righteous feud.
"Hatfields and McCoys" ran six hours over three nights on History Channel. The two-disc set runs just under five hours without commercials. Both Blu-ray and DVD features the half-hour "The Making of Hatfields and McCoys" and a music video features Kevin Costner and Modern West, which provides the lovely period music for the film's score.
See the trailer after the jump. Just click on "More" below.
For more releases, see Hot Tips and Top Picks: DVDs, Blu-rays and streaming video for the week of July 31