FEATURED POST
Plus Criterion editions of 'Harold and Maude' and 'Shallow Grave,' the Australian cult film 'Dogs in Space,' and more
By 
SeanAx
 Jun 14, 2012 10:10AM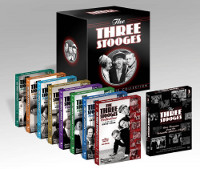 "Superman vs. The Elite" (Warner) is another standout DC Universe Animated Original Movie, this one pitting the Man of Steel against a new group of heroes who prefer to use deadly force and execution in their fight against crime. Videodrone's review is here.
"The Gold Rush" (Criterion), Charlie Chaplin's 1925 frozen north comedy classic, gets the Criterion treatment for Blu-ray and DVD. Reviewed on Videodrone here.
"The Three Stooges: The Ultimate Collection" (Sony) doesn't toss around the word "ultimate" lightly. The 20-disc set collects all 190 official Three Stooges shorts subjects (starring Larry Fine, Moe Howard, and Curly Howard, and later Shemp Howard and Joe Besser) from Columbia Pictures spanning 1934 to 1959, which were previously released chronologically over the past few fives year in eight individual sets, plus three discs of bonus material. Now don't judge me when I confess I'm not a Stooges fan. It's a matter of taste, not aesthetics, and their brand of slapstick doesn't do it for me, at least not consistently. But I can't deny that they really honed their corner of the physical comedy market with superb ensemble timing and attitude perfected over years of stage work and mastered the art of cinema slapstick very quickly. A lot of fans probably picked up some (if not all) of these volumes along the way, and thus this set is largely redundant, but this is the definitive collection of the Stooges in their element: the short subject comedy. Among the shorts are "Spooks" and "Pardon my Backfire" (both 1953), in both 3D and "flat" versions, along with two pair of 3D glasses.
Exclusive to this set is the three-disc collection "The Three Stooges: Rare Treasures from the Columbia Pictures Vault," with the Three Stooges feature films "Rockin' in the Rockies" (1945) with the original line-up of Moe, Larry and Curly, and "Have Rocket—Will Travel" (1959) with "Curly Joe" DeRita joining Moe and Larry, and three animated Stooges shorts. The rest of the set features 28 never-before-release​d shorts starring Shemp Howard, Joe Besser, and Joe DeRita outside of the gang. It's not much of a box, but it is quite a collection.
Currently this set is available exclusively in the box set and there has been no definitive announcement as to whether it will be sold separately in the future. But as the case features its own UPC code, there is anticipation that it will eventually be available as a stand-alone item.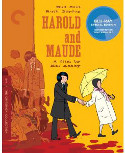 Once a staple of college film societies and repertory houses, the 1971 comedy "Harold and Maude" (Criterion) is a black comedy and an eccentric buddy picture about a death-obsessed teen (Bud Cort) from a rich family who spends his days staging mock-suicides and free-spirited senior citizen (Ruth Gordon) he meets at a funeral. She's celebrating life as she nears death and pulls him out of his morbidity with her antics ("liberating" trees from city street plots and replanting them in the forest) and joie de vivre. Directed by Hal Ashby from a script by Colin Higgins, and featuring original songs by Cat Stevens, the mix of whimsy and gallows humor earned scathing reviews and a cult following that kept it alive for decades in revival screenings. Its very much of its era.
Blu-ray and DVD, with commentary by Hal Ashby biographer Nick Dawson and producer Charles B. Mulvehill, illustrated audio excerpts of seminars by Ashby and writer-producer Colin Higgins, and a new video interview with songwriter Yusuf Islam (formerly Cat Stevens), plus a booklet with a new essay by critic Michael Wood and archival articles and print interviews.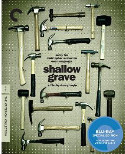 Also from Criterion comes Danny Boyle's debut feature "Shallow Grave" (Criterion) in a filmmaker-approved edition on Blu-ray and DVD, with two commentary tracks (one by director Danny Boyle and the other by screenwriter John Hodge and producer Andrew Macdonald), new interviews with stars Christopher Eccleston, Kerry Fox, and Ewan McGregor, Andrew Macdonald and Kevin Macdonald's video diary from the 1992 Edinburgh Film Festival (where they shopped around the script), and "Digging Your Own Grave," the 1993 documentary on the making of the film from filmmaker Kevin Macdonald, plus a booklet with an essay by critic Philip Kemp.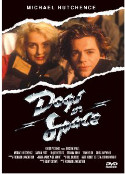 "Dogs In Space" (Hen's Tooth), set against the punk scene of Melbourne in the late seventies, came out of the burst of Australian filmmaking that gave us "Picnic at Hanging Rock," "Breaker Morant," "My Brilliant Career," "Mad Max," and others. This low-key portrait of social drop-outs, misfits, and musicians living together in a squalid house in state of perpetual sex, drugs, rock and roll, and chaos, came out in the shadow of those more acclaimed films. It was a cult hit on its release, thanks in part to the dramatic debut of INXS singer Michael Hutchence, but largely disappeared from sight in subsequent years. Now the 1986 film, written and directed by Richard Lowenstein and partially inspired by his own experiences, looks like something of a time capsule, a portrait of an era with special attention to the sensibility of this subculture and the texture of the environment. Without passing judgment, it offers quite a vivid look at a lifestyle that wallows in immediate gratification without giving much thought to the consequences. The two-disc set, mastered from 2009 restoration of the film, also features two commentary tracks with Lowenstein and his collaborators, Lowenstein's 2009 documentary "We're Livin' on Dog Food," about the seventies punk in Melbourne, an archival behind-the-scenes featurette, and music videos among the supplements.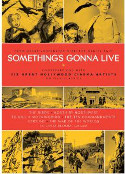 The subtitle to Daniel Raim's "Something's Gonna Live" (Docurama) is "Six Great Hollywood Cinema Artists on Film Classics," and those artists are production designers Robert Boyle, Henry Bumstead, and Albert Nozaki, production designer/storyboard artist Harold Michaelson, and cinematographer Conrad Hall. These six friends and fellow artists were a living legacy of the art of cinema in the last half of the 20th century (since the film was shot, many of them have passed away) and Raim's modest film is a kind of filmed reunion, less a documentary than a visit with these men as they reflect back on their work on such films as "The Birds," "North By Northwest," "To Kill a Mockingbird," "In Cold Blood," and more. The DVD features bonus interviews and presentations by the artists, deleted scenes, and the bonus film "The Man on Lincoln's Nose."
"Countess Perverse" (Mondo Macabro) is Jess Franco's 1973 reworking of "The Most Dangerous Game," with Alice Arno as the perverse Countess and Howard Vernon as her Count, who hunt humans on their island compound and feed their kills to their next victims. No worries about truth in advertising on this title. The disc also features an introduction by critic Stephen Thrower and an interview with actor Robert Woods, plus a profile of Jess Franco. French with English subtitles, DVD only.  
Plus:
"Eros School: Feels So Good" (Impulse) and "Zoom Up: The Beaver Book Girl" (Impulse) are the third and fourth releases in the "Nikkatsu Erotic Films Collection." Adults only, please. Japanese with English subtitles, DVD only.
"Adrenaline Rush: The Science of Risk" (Image) is a short documentary on BASE jumping made for IMAX theaters. Blu-ray and DVD, with a making-of featurette.
For more releases, see Hot Tips and Top Picks: DVDs, Blu-rays and streaming video for June 12