FEATURED POST
Plus 'Stars and Stripes Forever,' 'Moses and Aaron' and more
By 
SeanAx
 Dec 15, 2011 11:32AM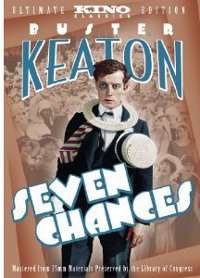 Buster Keaton directs and stars in the 1925 "Seven Chances" (Kino) as a bachelor and struggling young lawyer who is informed that he must marry by 7pm of his 27th birthday, which just so happens to be that very day. Turned down by his longtime sweetheart, he frantically searches for someone—anyone—to wed. While "Seven Chances" doesn't have the sustained inspiration of his best films (such as "The General" and "Steamboat Bill, Jr."), Keaton fills the picture with inventive moments and clever ideas, notably a sustained series of desperate proposals (the "seven chances" of the title) that leads to an outrageous finale: a brilliant cascade of comic invention that begins with a church full of hopeful brides all expecting to marry into his fortune and builds to a surreal chase of epic proportions. The hapless Keaton flees the angry mob of women in white lace and veils and ends up dodging rolling stones and massive boulders while trying to outrun an avalanche, never once losing his trademark deadpan expression. The biggest weakness is an embarrassing blackface performance that, while quite common at the time, is quite tasteless to modern eyes.
Newly mastered from 35mm materials preserved by the Library of Congress, and featuring a new restoration of the film's original, two-color Technicolor prologue restored by film historian Eric Grayson and a new score by composer Robert Israel. The DVD and Blu-ray editions both feature commentary by film historians Ken Gordon and Bruce Lawton, a visual essay on the film's locations by author John Bengtson, an analysis of the restored Technicolor sequence by film historian Eric Grayson, and two companion shorts: one from 1904 that inspired the play, and a Three Stooges short from 1947 that recycles the premise.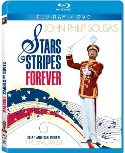 Clifton Webb is "The March King" John Philip Sousa in "Stars and Stripes Forever" (Fox), the glossy 1952 biopic directed co-starring Debra Paget, Robert Wagner, Ruth Hussey and Sousa's legendary brass band anthems. It debuts on both DVD and Blu-ray in a single combo pack featuring both versions, but only the Blu-ray includes the two featurettes on Sousa and the galleries of stills and art.
For an alternative that definitely earns the title "alternative" there is "Moses and Aaron" (New Yorker), a screen adaptation of the Arnold Schoenberg opera by the resolutely political filmmakers Danielle Huillet and Jean-Marie Straub. The disc, in a paperboard digipak in a slipsleeve, also features "Introduction to Arnold Schoenberg's 'Accompaniment to a Cinematographic Scene'," a short film by the directors from 1973, and an accompanying booklet with the libretto in German and English. The films are in German with English subtitles.

"MOMA: 50 Masterworks From the Collection" (Screen Dreams) brings a different meaning to the term "art house release." The DVD and Blu-ray release reproduces 50 works from the collection of the Museum of Modern Art by world famous artists --including Vincent Van Gogh, Henri Matisse, Salvador Dalí, Paul Cézanne, Claude Monet, Edward Hopper, Georges Seurat, Marc Chagall, Jackson Pollack, Jasper Johns, and Henri Rousseau -- in high resolution, and turns your widescreen TV into a picture frame of rotating art. The program lasts 50 minutes and features you choice of ten soundtrack backgrounds.
Newly remastered for DVD and Blu-ray is "Intruder: Director's Cut" (Synapse), a gore-heavy horror set during the night shift of a supermarket where a deranged killer stalks, slices and slashes employees. It's directed by Sam Raimi buddy Scott Spiegel (who co-wrote "Evil Dead II") and co-stars Renee Estevez and Sam Raimi, with "special appearances" by Bruce Campbell and producer Lawrence Bender. The Blu-ray+DVD Combo Pack features a new digital restoration of the uncensored director's cut, commentary by director Spiegel and producer Bender, a new making-of featurette, outtakes, audition footage and other supplements.
"Don't Open Till Christmas" is a 1981 Santa horror, but this time he's not the killer, he's the target: this killer hunts men in Santa suits. Edmund Purdom directs and stars in the film and the DVD features a making-of documentary and a portrait of producer Rick Randall.
"The Love We Make" (Eagle Vision), co-directed by Albert Maysles, profiles Paul McCartney's journey to put together a benefit concert in the wake of the 9/11 attacks.
For more releases, see Hot Tips and Top Picks: DVDs and Blu-rays for December 13