FEATURED POST
The long-awaited box set is out today, but released in Europe earlier this week
By 
SeanAx
 Sep 14, 2011 11:20AM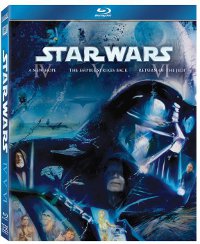 "Star Wars: The Complete Saga" (Fox), the Blu-ray debut of the six "Star Wars" films, didn't arrive in stateside home theaters until Friday, September 16, but Europe is a different story. It was released in Britain, Sweden and elsewhere across the pond on Monday, September 12 and the reviews, most of them for tech-savvy, "Star Wars"-loving fans, have been tricking in. Here are a few previews of coming attractions.
At The Digital Fix, Geoff Dearth (whose name already resembles a "Star Wars" character) takes on "Star Wars: The Original Trilogy." While he resigns himself to Lucas' tinkering ("For this 2011 edition of ["Star Wars"] Lucas has changed a few things once again (which I won't bleat about here) but the core of the movie still shines through the superficial CG gloss."), he takes a hard line on the technical quality of the masters. "These Blu-rays don't quite do them justice, using 7-year-old transfers which are beset with colour problems and artefacts from the then-state-of-the-ar​t digital restoration," he complains, noting that the audio is a little better "yet it's still not perfect, hampered by the variable quality of the original sound element ".
A remarkably comprehensive review by Blu-ray.com reviewer Casey Broadwater proclaims that, a few exceptions aside (in particular "The Phantom Menace"),  "the transfers/restoratio​ns the films have been given represent an exponential leap in picture refinement, integrity, and clarity from previous DVD releases." And he's in a forgiving mood when it comes to Lucas' reworking of the original films. "Yes, there are some goofy new additions, like Darth Vader yelling "NOOOOO" as he throws Emperor Palpatine over the railing. I don't think anyone expected this release of "The Complete Saga" to be free of controversy. But come on. It's "Star Wars." On Blu-ray."