FEATURED POST
Plus 'Rake' from Australia, the end of 'Entourage,' and a rack of single-season shows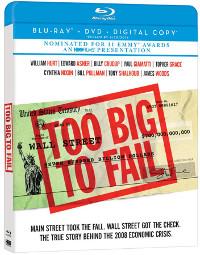 "Scandal: The Complete First Season" (ABC), created by Shonda Rhimes ("Grey's Anatomy") and starring Kerry Washington as the politically-connecte​d head of D.C. crisis management firm, started splashy and obvious, but improved over its short debut season and is coming back in the fall. Videodrone's review is here.
"Too Big to Fail" (HBO), the made-for-cable drama about the 2008 financial meltdown (based on the nonfiction book by Andrew Ross Sorkin), tries to make human drama out of a complicated story. The film "uses every cinematic trick in the book, but ultimately succeeds because we know that the danger was real," writes Michael Kinsley in The New York Times. "This version of events is largely correct, I think, and the movie tells it with exemplary clarity. " Oscar winner Curtis Hanson directs a superb cast that includes William Hurt as Treasury Secretary Henry Paulson, Ed Asner as Warren Buffett, Billy Crudup as Timothy Geithner, and Paul Giamatti as Ben S. Bernanke, plus Cynthia Nixon (Michele Davis), Michael O'Keefe (Chris Flowers), Bill Pullman (Jamie Dimon), Tony Shalhoub, and James Woods. Blu-ray and DVD, with a couple of featurettes and a timeline of the crisis.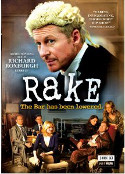 "Rake" (BFS) is a pretty fair description of Richard Roxburgh's Cleaver Greene, an Australian criminal barrister who tends toward unconventional methods in the courtroom and self-destructive behavior outside the courts. He's once divorced, with a string of failed relationships (one with a former hooker now dating the tax attorney prosecuting him) and affairs, and it's left his own personal life in quite a state of chaos. He rarely gets through a case without a beating of some kind. I couldn't say if it's indicative of the difference between British and Australian television, but where British shows tend to lovable eccentrics, this one is content to let us enjoy his reckless disregard and scruffy wit without worrying about redeeming him in any way, and it's even more liberal in its gratuitous nudity. We don't have to like him to enjoy his company. And if you need another reason to check it out, here's one: the first episode guest stars Hugo Weaving as Greene's client, a genius economist who happens to be a confessed and unashamed cannibal. Bon appétit! 8 episodes on three discs, DVD only.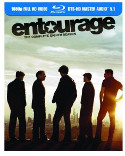 "Entourage: The Complete Eighth and Final Season" (HBO) brings happy endings all around for fun-loving Hollywood star Vincent Chase (Adrian Grenier), super-agent Ari Gold (Jeremy Piven), and all the pals around them. It's hard to take this show seriously, with its golden boy success stories and life of affluence and parties and excess, but it was often a fun ride and you can't fault the show for going out with the same unbelievable good fortune for all that it dispensed through the first seven seasons. Eight episodes on two discs on Blu-ray and DVD, plus two farewell featurettes.
"Episodes: The First Season" (Paramount), Showtime's answer to the showbiz comedy, stars Matt LeBlanc in a parody of himself, cast in an American version of a British sitcom that get turned inside out in the development process. Stephen Mangan and Tamsin Greig play the British creators brought to Los Angeles and driven crazy by the mix of mad money and arbitrary creative changes thrown their way. Seven episodes on a single disc. DVD only.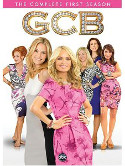 "GCB: The Complete First Season" (ABC), a comic drama from Darren Star with Leslie Bibb and Kristin Chenoweith, and "Missing: The Complete First Season" (ABC), a serialized thriller with Ashley Judd as a former CIA agent gone rogue to find her missing son, both debuted in the Spring of 2012 as midseason replacements. Neither of these short-lived network shows are coming back in the fall, so you can think of them as "The Complete Series." Ten episodes on three discs apiece, plus supplements. DVD only.
"Dog Bites Man: The Complete Series" (Olive) is the 2006 Comedy Central series about a small town TV news team out of their depth as they travel for human interest stories. The show takes the mock-documentary format, like a TV reality show, but a familiar approach to the humor of egos and idiocy on parade. Zach Galifianakis co-stars as the director, with A.D. Miles as the reporter, Andrea Savage as the producer, and Matt Walsh as the nerdy cameraman.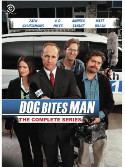 It's one of three short-lived shows from Comedy Central hitting DVD  this week. The others are the animated "Freak Show: The Complete Series" (Olive) from 2006 and the 2008 "Chocolate News: The Complete Series" (Olive) with David Alan Grier.
"Violin Masters: Two Gentlemen of Cremona" (PBS) tells the story of two competing violin makers of the late 17th century from the same Italian town who violins are the most revered in the world today: Antonio Stradivari and Guiseppe Guarneri del Gesu. Alfred Molina narrates.
It's one of a trio of hour-long documentaries originally made for public television. "The Polar Explorer" (PBS) chronicles a three-week expedition to study the effects of climate change in the Arctic and "Murdoch's Scandal" (PBS), co-produced with the CBC and originally shown on "Frontline," looks into the insular media empire in the wake of the recent scandals.
I cover recent TV releases on the manufacture-on-deman​d format, including "Without a Trace: The Complete Third Season" and "Starman: The Complete Series," on Videodrone here.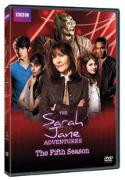 BritTV:
"The Sarah Jane Adventures: The Fifth Season" (BBC) is also the final season of the kid-oriented "Doctor Who" spin-off, starring original-series companion Elisabeth Sladen and young cast of helpers. Ms. Sladen died after the production of this series. Six episodes (three stories) on one disc, plus a tribute to Elisabeth Sladen from friends and co-workers.
Also from BBC comes two classic "Doctor Who" releases: Patrick Troughton is The Doctor in "Doctor Who: The Seeds of Death" (story no. 48 in the show's chronology) and Peter Davison is The Doctor in "Doctor Who: Resurrection of the Daleks" (story no. 134). Both are two-disc sets with commentary, featurettes, archival footage, and interviews among the supplements.
Another season:
"Gene Simmons Family Jewels: Season 6, Volume 1" (A&E) and "Gene Simmons Family Jewels: Season 6, Volume 2" (A&E) bring us up to date on the reality series featuring the ego-driven rock star. 9 episodes plus bonus unreleased episodes from "Season 5" on the three discs on "Volume 1" and 8 episodes (including the two-hour wedding episode) on two discs on "Volume 2."
"Brad Meltzer's Decoded: Season Two" (History) features 13 episodes from the series investigating the mysteries surrounding events in American history. 13 episodes on three discs. "Dog the Bounty Hunter: Taking It to the Streets" (A&E) features new episodes of the show.
For more releases, see Hot Tips and Top Picks: DVDs, Blu-rays and streaming video for June 12